Pp2a: At The Crossroads Between Growth and Defence In Plants
Konert, Grzegor (2014-12-05)
---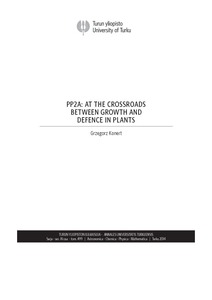 Turun yliopisto Annales Universitatis Turkuensis A I 499
05.12.2014
Julkaisun pysyvä osoite on:
http://urn.fi/URN:ISBN:978-951-29-5936-5
Kuvaus
Siirretty Doriasta
Tiivistelmä
Living organisms manage their resources in well evolutionary-preserved manner to grow and reproduce. Plants are no exceptions, beginning from their seed stage they have to perceive environmental conditions to avoid germination at wrong time or rough soil. Under favourable conditions, plants invest photosynthetic end products in cell and organ growth to provide best possible conditions for generation of offspring. Under natural conditions, however, plants are exposed to a multitude of environmental stress factors, including high light and insufficient light, drought and flooding, various bacteria and viruses, herbivores, and other plants that compete for nutrients and light. To survive under environmental challenges, plants have evolved signaling mechanisms that recognise environmental changes and perform fine-tuned actions that maintain cellular homeostasis. Controlled phosphorylation and dephosphorylation of proteins plays an important role in maintaining balanced flow of information within cells.

In this study, I examined the role of protein phosphatase 2A (PP2A) on plant growth and acclimation under optimal and stressful conditions. To this aim, I studied gene expression profiles, proteomes and protein interactions, and their impacts on plant health and survival, taking advantage of the model plant Arabidopsis thaliana and the mutant approach. Special emphasis was made on two highly similar PP2A-B regulatory subunits, B'γ and B'ζ.

Promoters of B'γ and B'ζ were found to be similarly active in the developing tissues of the plant. In mature leaves, however, the promoter of B'γ was active in patches in leaf periphery, while the activity of B'ζ promoter was evident in leaf edges. The partially overlapping expression patterns, together with computational models of B'γ and B'ζ within trimeric PP2A holoenzymes suggested that B'γ and B'ζ may competitively bind into similar PP2A trimmers and thus influence each other's actions. Arabidopsis thaliana pp2a-b'γ and pp2a-b'γζ double mutants showed dwarfish phenotypes, indicating that B'γ and B'ζ are needed for appropriate growth regulation under favorable conditions. However, while pp2a-b'γ displayed constitutive immune responses and appearance of premature yellowings on leaves, the pp2a-b'γζ double mutant supressed these yellowings. More detailed analysis of defense responses revealed that B'γ and B'ζ mediate counteracting effects on salicylic acid dependent defense signalling. Associated with this, B'γ and B'ζ were both found to interact in vivo with CALCIUM DEPENDENT PROTEIN KINASE 1 (CPK1), a crucial element of salicylic acid signalling pathway against pathogens in plants. In addition, B'γ was shown to modulate cellular reactive oxygen species (ROS) metabolism by controlling the abundance of ALTERNATIVE OXIDASE 1A and 1D in mitochondria.

PP2A B'γ and B'ζ subunits turned out to play crucial roles in the optimization of plant choices during their development. Taken together, PP2A allows fluent responses to environmental changes, maintenance of plant homeostasis, and grant survivability with minimised cost of redirection of resources from growth to defence.