Spontaneous Focusing on Numerosity in the Development of Early Mathematical Skills
Hannula, Minna M. (2005-05-18)
---
Spontaneous Focusing on Numerosity in the Development of Early Mathematical Skills
(18.05.2005)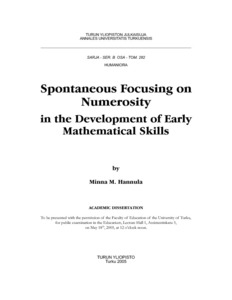 Turun yliopisto
Julkaisun pysyvä osoite on:
https://urn.fi/URN:ISBN:978-951-29-5978-5
Kuvaus
Siirretty Doriasta
Tiivistelmä
The aim of the present set of longitudinal studies was to explore 3-7-year-old children.s Spontaneous FOcusing on Numerosity (SFON) and its relation to early mathematical development. The specific goals were to capture in method and theory the distinct process by which children focus on numerosity as a part of their activities involving exact number recognition, and individual differences in this process that may be informative in the development of more complex number skills. Over the course of conducting the five studies, fifteen novel tasks were progressively developed for the SFON assessments. In the tasks, confounding effects of insufficient number recognition, verbal comprehension, other procedural skills as well as working memory capacity were aimed to be controlled. Furthermore, how children.s individual differences in SFON are related to their development of number sequence, subitizing-based enumeration, object counting and basic arithmetic skills was explored. The effect of social interaction on SFON was tested.

Study I captured the first phase of the 3-year longitudinal study with 39 children. It was investigated whether there were differences in 3-year-old children.s tendency to focus on numerosity, and whether these differences were related to the children.s development of cardinality recognition skills from the age of 3 to 4 years. It was found that the two groups of children formed on the basis of their amount of SFON tendency at the age of 3 years differed in their development of recognising and producing small numbers. The children whose SFON tendency was very predominant developed faster in cardinality related skills from the age of 3 to 4 years than the children whose SFON tendency was not as predominant. Thus, children.s development in cardinality recognition skills is related to their SFON tendency.

Studies II and III were conducted to investigate, firstly, children.s individual differences in SFON, and, secondly, whether children.s SFON is related to their counting development. Altogether nine tasks were designed for the assessments of spontaneous and guided focusing on numerosity. The longitudinal data of 39 children in Study II from the age of 3.5 to 6 years showed individual differences in SFON at the ages of 4, 5 and 6 years, as well as stability in children.s SFON across tasks used at different ages. The counting skills were assessed at the ages of 3.5, 5 and 6 years. Path analyses indicated a reciprocal tendency in the relationship between SFON and counting development. In Study III, these results on the individual differences in SFON tendency, the stability of SFON across different tasks and the relationship of SFON and mathematical skills were confirmed by a larger-scale cross-sectional study of 183 on average 6.5-year-old children (range 6;0-7;0 years). The significant amount of unique variance that SFON accounted for number sequence elaboration, object counting and basic arithmetic skills stayed statistically significant (partial correlations varying from .27 to .37) when the effects of non-verbal IQ and verbal comprehension were controlled. In addition, to confirm that the SFON tasks assess SFON tendency independently from enumeration skills, guided focusing tasks were used for children who had failed in SFON tasks. It was explored whether these children were able to proceed in similar tasks to SFON tasks once they were guided to focus on number. The results showed that these children.s poor performance in the SFON tasks was not caused by their deficiency in executing the tasks but on lacking focusing on numerosity.

The longitudinal Study IV of 39 children aimed at increasing the knowledge of associations between children.s long-term SFON tendency, subitizing-based enumeration and verbal counting skills. Children were tested twice at the age of 4-5 years on their SFON, and once at the age of 5 on their subitizing-based enumeration, number sequence production, as well as on their skills for counting of objects. Results showed considerable stability in SFON tendency measured at different ages, and that there is a positive direct association between SFON and number sequence production. The association between SFON and object counting skills was significantly mediated by subitizing-based enumeration. These results indicate that the associations between the child.s SFON and sub-skills of verbal counting may differ on the basis of how significant a role understanding the cardinal meanings of number words plays in learning these skills.
The specific goal of Study V was to investigate whether it is possible to enhance 3-year old children.s SFON tendency, and thus start children.s deliberate practice in early mathematical skills. Participants were 3-year-old children in Finnish day care. The SFON scores and cardinality-related skills of the experimental group of 17 children were compared to the corresponding results of the 17 children in the control group. The results show an experimental effect on SFON tendency and subsequent development in cardinality-related skills during the 6-month period from pretest to delayed posttest in the children with some initial SFON tendency in the experimental group. Social interaction has an effect on children.s SFON tendency.

The results of the five studies assert that within a child.s existing mathematical competence, it is possible to distinguish a separate process, which refers to the child.s tendency to spontaneously focus on numerosity. Moreover, there are significant individual differences in children.s SFON at the age of 3-7 years. Moderate stability was found in this tendency across different tasks assessed both at the same and at different ages. Furthermore, SFON tendency is related to the development of early mathematical skills. Educational implications of the findings emphasise, first, the importance of regarding focusing on numerosity as a separate, essential process in the assessments of young children.s mathematical skills. Second, the substantial individual differences in SFON tendency during the childhood years suggest that uncovering and modeling this kind of mathematically meaningful perceiving of the surroundings and tasks could be an efficient tool for promoting young children.s mathematical development, and thus prevent later failures in learning mathematical skills. It is proposed to consider focusing on numerosity as one potential sub-process of activities involving exact number recognition in future studies.