Effects of physical activity and fitness on the psychological wellbeing of young men and working adults: associations with stress, mental resources, overweight and workability
Kettunen, Oili (2015-03-06)
---
Effects of physical activity and fitness on the psychological wellbeing of young men and working adults: associations with stress, mental resources, overweight and workability
(06.03.2015)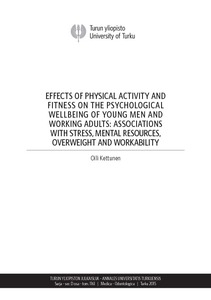 Turun yliopisto
Julkaisun pysyvä osoite on:
https://urn.fi/URN:ISBN:978-951-29-6031-6
Kuvaus
Siirretty Doriasta
Tiivistelmä
Background: A positive association has been suggested to exist between physical activity and psychological wellbeing. However, the association between physical fitness, especially muscle fitness and psychological wellbeing, has not yet been fully elucidated.

Aims: The objective of the present thesis was to assess the relationship between physical activity and physical fitness with stress symptoms, mental resources and workability among young men and working adults.

Subjects and methods: Volunteers of young men (n=831, mean age 25-y (±4.0)), underwent a cardiorespiratory (CRF) and muscle fitness (MFI) test and completed leisure time physical activity (LTPA) and Occupational Stress Questionnaires (OSQ). The participants were divided into tertiles according to LTPA, CRF and MFI. A 12-month exercise intervention evaluated 371 working adults (exercise group, n=338, mean age 45-y (±8.8)); control group, n=33, mean age 41-y (±6.9)).The exercise group underwent a 12-month exercise program followed by a 12-month follow-up. The OSQ, Workability Index (WAI) and CRF were evaluated at baseline and at 4, 8, 12 and 24 months.

Results: Physically inactive subjects reported more stress and less available mental resources than the subjects who reported high physical activity levels. Improved physical fitness was associated with less stress and more mental resources among normal weight men, but not in overweight men. After a 12-month exercise intervention, employees in the exercise group increased their physical activity, improved workability, decreased stress symptoms and improved their physical fitness and mental resources. After the follow-up year, workability and stress were improved compared to baseline.

Conclusions: In this thesis, good physical fitness was associated with improved psychological wellbeing among young men and working adults.