Nanoparticle-Assisted Immunoassays for Point-of-Care Testing - With Specific Interest in Minimally Interference-Prone Assays for Cardiac Troponin I
Hyytiä, Heidi (2015-03-31)
---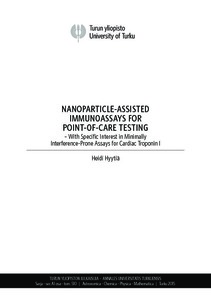 Turun yliopisto Annales Universitatis Turkuensis A I 510
31.03.2015
Julkaisun pysyvä osoite on:
http://urn.fi/URN:ISBN:978-951-29-6066-8
Kuvaus
Siirretty Doriasta
Tiivistelmä
Cardiac troponins (cTn) I and T are the current golden standard biochemical markers in the diagnosis and risk stratification of patients with suspected acute coronary syndrome. During the past few years, novel assays capable of detecting cTn‐concentrations in >50% of apparently healthy individuals have become readily available. With the emerging of these high sensitivity cTn assays, reductions in the assay specificity have caused elevations in the measured cTn levels that do not correlate with the clinical picture of the patient. The increased assay sensitivity may reveal that various analytical interference mechanisms exist.

This doctoral thesis focused on developing nanoparticle‐assisted immunometric assays that could possibly be applied to an automated point‐of‐care system. The main objective was to develop minimally interference‐prone assays for cTnI by employing recombinant antibody fragments. Fast 5‐ and 15‐minute assays for cTnI and D‐dimer, a degradation product of fibrin, based on intrinsically fluorescent nanoparticles were introduced, thus highlighting the versatility of nanoparticles as universally applicable labels. The utilization of antibody fragments in different versions of the developed cTnI‐assay enabled decreases in the used antibody amounts without sacrificing assay sensitivity. In addition, the utilization of recombinant antibody fragments was shown to significantly decrease the measured cTnI concentrations in an apparently healthy population, as well as in samples containing known amounts of potentially interfering factors: triglycerides, bilirubin, rheumatoid factors, or human anti‐mouse antibodies. When determining the specificity of four commercially available antibodies for cTnI, two out of the four cross‐reacted with skeletal troponin I, but caused crossreactivity issues in patient samples only when paired together.

In conclusion, the results of this thesis emphasize the importance of careful antibody selection when developing cTnI assays. The results with different recombinant antibody fragments suggest that the utilization of antibody fragments should strongly be encouraged in the immunoassay field, especially with analytes such as cTnI that require highly sensitive assay approaches.