To Divide or Not to Divide; MicroRNAs and Small Compounds as Modulators of Mitosis
Mäki-Jouppila, Jenni (2015-03-27)
---
To Divide or Not to Divide; MicroRNAs and Small Compounds as Modulators of Mitosis
(27.03.2015)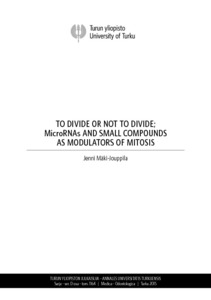 Annales Universitatis Turkuensis D 1164 Turun yliopisto
Julkaisun pysyvä osoite on:
https://urn.fi/URN:ISBN:978-951-29-6056-9
Kuvaus
Siirretty Doriasta
Tiivistelmä
Mitosis is under the stringent quality control of the spindle assembly checkpoint (SAC). However, in cancer cells this control can fail, leading to excessive cellular proliferation and ultimately to the formation of a tumor. Novel cancer cell selective therapies are needed to stop the uncontrolled cell proliferation and tumor growth. The aim of the research presented in this thesis was to identify microRNAs (miRNAs) that could play a role in cancer cell proliferation as well as low molecular weight (LMW) compounds that could interfere with cell division. The findings could be used to develop better cancer diagnostics and therapies in the future. First, a high-throughput screen (HTS) was performed to identify LMW compounds that possess a similar chemical interaction field as rigosertib, an anti-cancer compound undergoing clinical trials. A compound termed Centmitor-1 was discovered that phenocopied the cellular impact of rigosertib by affecting the microtubule dynamics. Next, another HTS aimed at identifying compounds that would target the Hec1 protein, which mediates the interaction between spindle microtubules and chromosomes. Perturbation of this connection should prevent cell division and induce cell death. A compound termed VTT-006 was discovered that abrogated mitosis in several cell line models and exhibited binding to Hec1 in vitro. Lastly, using a cell-based HTS two miRNAs were identified that affected cancer cell proliferation via Aurora B kinase, which is an important mitotic regulator. MiR-378a-5p was found to indirectly suppress the production of the kinase whereas let-7b showed direct binding to the 3'UTR of Aurora B mRNA and repressed its translation. The miRNA-mediated perturbation of Aurora B induced defects in mitosis leading to abnormal chromosome segregation and induction of aneuploidy. The results of this thesis provide new information on miRNA signaling in cancer, which could be utilized for diagnostic purposes. Moreover, the thesis introduces two small compounds that may benefit future drug research.