Numerical Studies of Dark Energy Models and Observations
Henttunen, Kaisa (2015-04-18)
---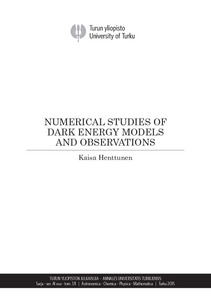 Turun yliopisto Annales Universitatis Turkuensis A I 511
18.04.2015
Julkaisun pysyvä osoite on:
http://urn.fi/URN:ISBN:978-951-29-6074-3
Kuvaus
Siirretty Doriasta
Tiivistelmä
The cosmological standard view is based on the assumptions of homogeneity, isotropy and general relativistic gravitational interaction. These alone are not sufficient for describing the current cosmological observations of accelerated expansion of space. Although general relativity is extremely accurately tested to describe the local gravitational phenomena, there is a strong demand for modifying either the energy content of the universe or the gravitational interaction itself to account for the accelerated expansion. By adding a non-luminous matter component and a constant energy component with negative pressure, the observations can be explained with general relativity.

Gravitation, cosmological models and their observational phenomenology are discussed in this thesis. Several classes of dark energy models that are motivated by theories outside the standard formulation of physics were studied with emphasis on the observational interpretation. All the cosmological models that seek to explain the cosmological observations, must also conform to the local phenomena. This poses stringent conditions for the physically viable cosmological models. Predictions from a supergravity quintessence model was compared to Supernova 1a data and several metric gravity models were studied with local experimental results. Polytropic stellar configurations of solar, white dwarf and neutron stars were numerically studied with modified gravity models. The main interest was to study the spacetime around the stars. The results shed light on the viability of the studied cosmological models.