From Unspecific Quenching to Specific Signaling: Functional GTPase Assays Utilizing Quenching Resonance Energy Transfer (QRET) Technology
Kopra, Kari (2015-04-17)
---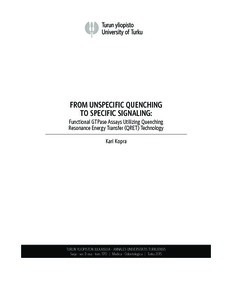 Turun yliopisto
17.04.2015
Julkaisun pysyvä osoite on:
http://urn.fi/URN:ISBN:978-951-29-6080-4
Kuvaus
Siirretty Doriasta
Tiivistelmä
The aim of the work presented in this study was to demonstrate the wide applicability of a single-label quenching resonance energy transfer (QRET) assay based on time-resolved lanthanide luminescence. QRET technology is proximity dependent method utilizing weak and unspecific interaction between soluble quencher molecule and lanthanide chelate. The interaction between quencher and chelate is lost when the ligand binds to its target molecule. The properties of QRET technology are especially useful in high throughput screening (HTS) assays.

At the beginning of this study, only end-point type QRET technology was available. To enable efficient study of enzymatic reactions, the QRET technology was further developed to enable measurement of reaction kinetics. This was performed using proteindeoxyribonuclei acid (DNA) interaction as a first tool to monitor reaction kinetics. Later, the QRET was used to study nucleotide exchange reaction kinetics and mutation induced effects to the small GTPase activity. Small GTPases act as a molecular switch shifting between active GTP bound and inactive GDP bound conformation.

The possibility of monitoring reaction kinetics using the QRET technology was evaluated using two homogeneous assays: a direct growth factor detection assay and a nucleotide exchange monitoring assay with small GTPases. To complete the list, a heterogeneous assay for monitoring GTP hydrolysis using small GTPases, was developed. All these small GTPase assays could be performed using nanomolar protein concentrations without GTPase pretreatment. The results from these studies demonstrated that QRET technology can be used to monitor reaction kinetics and further enable the possibility to use the same method for screening.