Relationship between Daily Habits, Oral Microbiota and Caries with Special Reference to Xylitol
ElSalhy, Mohamed (2015-04-24)
---
Relationship between Daily Habits, Oral Microbiota and Caries with Special Reference to Xylitol
(24.04.2015)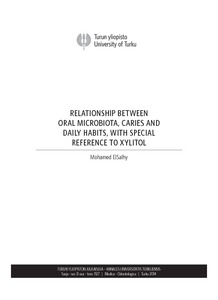 Annales Universitatis Turkuensis D 1127 Turun yliopisto
Julkaisun pysyvä osoite on:
https://urn.fi/URN:ISBN:978-951-29-5823-8
Kuvaus
Siirretty Doriasta
Tiivistelmä
Caries is a plaque-associated multifactorial chronic disease. Oral hygiene habits, sugar, and oral micobiota interactions are important for caries to occur. Xylitol has been shown to reduce caries mainly due to its effects on mutans streptococci (MS). The purpose of this study was to evaluate the relationship of daily oral health habits and bacterial level on the caries occurrence and to study the effect of xylitol on the composition of oral microflora.

A total of 192, 10-12 years old, male school children had been screened for salivary MS. Healthy subjects with high MS counts participated in two parallel double-blinded, randomised, controlled trials. In the first 5-week trial, subjects were assigned into xylitol (n=35) and sorbitol gum (n=38) groups. At baseline, children were examined using International Caries Detection and Assessment System (ICDAS) criteria and interviewed for oral health habits. In the second 4-week trial, subjects were assigned into xylitol (n=25) and saccharine mouthrinse (n=25) groups. In the end of both interventions, saliva samples were collected. The samples were analysed for changes in MS counts and changes in the composition of the oral microbiota assessed by the Human Oral Microbe Identification Microarray (HOMIM). Relationships between daily habits, bacterial levels and caries were evaluated.

Daily use of sweets and soft drinks were the habits significantly associated with caries severity measured by ICDAS Caries Index (CI), while toothbrushing was the only habit associated with the low caries severity. Abiotrophia defectiva and Actinomyces meyeri/ A. odontolyticus were significantly higher in caries-affected children while Shuttleworthia satelles was significantly higher in caries-free children. Xylitol showed significant reduction in salivary levels of MS in both trials. No significant effects on other members of the microbiota were found when evaluated by HOMIM.

In conclusion, other members of oral microbiota than MS may be associated with caries occurrence or absence. The use of xylitol had significant effect on MS with no effects on the other members of the salivary microbiota.