Early Life Intestinal Microbiota in Health and in Atopic Eczema
Nylund, Lotta (2015-05-05)
---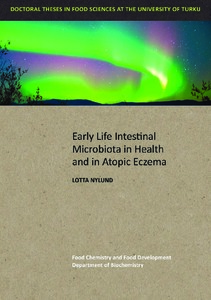 Turun yliopisto
05.05.2015
Julkaisun pysyvä osoite on:
http://urn.fi/URN:ISBN:978-951-29-6071-2
Kuvaus
Siirretty Doriasta
Tiivistelmä
Decrease in microbial contacts in affluent societies is considered to lie behind the rise in allergic and other chronic inflammatory diseases during the last decades. Indeed, deviations in the intestinal microbiota composition and diversity have been associated with several diseases, such as atopic eczema. However, there is no consensus yet on what would constitute a beneficial or harmful microbiota. The aim of this thesis was to study the microbiota development in healthy infants and to characterize intestinal microbiota signatures associated with disease status and severity in infants with atopic eczema. The methodological aim was to compare and optimize methods for DNA extraction from fecal samples to be used in high-throughput microbiota analyses.

It was confirmed that the most critical step in successful microbial DNA extraction from fecal samples is the mechanical cell lysis procedure. Based on this finding, an efficient semi-automated extraction process was developed that can be scaled for use in high-throughput platforms such as phylogenetic microarray used in this series of studies. By analyzing a longitudinal motherchild cohort for 3 years it was observed that the microbiota development is a gradual process, where some bacterial groups reach the degree of adult-type pattern earlier than others. During the breast-feeding period, the microbiota appeared to be relatively simple, while major diversification was found to start during the weaning process. By the age of 3 years, the child's microbiota composition started to resemble that of an adult, but the bacterial diversity has still not reached the full diversity, indicating that the microbiota maturation extends beyond this age. In addition, at three years of age, the child's microbiota was more similar to mother's microbiota than to microbiota of nonrelated women.In infants with atopic eczema, a high total microbiota diversity and abundance of butyrate-producing bacteria was found to correlate with mild symptoms at 6 months. At 18 months, infants with mild eczema had significantly higher microbiota diversity and aberrant microbiota composition when compared to healthy controls at the same age.

In conclusion, the comprehensive phylogenetic microarray analysis of early life microbiota shows the synergetic effect of vertical transmission and shared environment on the intestinal microbiota development. By the age of three years, the compositional development of intestinal microbiota is close to adult level, but the microbiota diversification continues beyond this age. In addition, specific microbiota signatures are associated with the existence and severity of atopic eczema and intestinal microbiota seems to have a role in alleviating the symptoms of this disease.