Isolation and Characterization of Ovomucin - a Bioactive Agent of Egg White
Hiidenhovi, Jaakko (2015-05-08)
---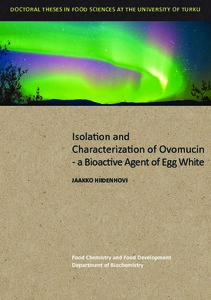 Turun yliopisto
08.05.2015
Julkaisun pysyvä osoite on:
http://urn.fi/URN:ISBN:978-951-29-6115-3
Kuvaus
Siirretty Doriasta
Tiivistelmä
The hen's egg is a source of new life. Therefore, it contains many biologically active compounds. In addition to being a very nutritious food and also commonly used in the food industry due to its many techno-functional properties, the egg can serve as a source of compounds used as nutra-, pharmaand cosmeceuticals. One such interesting compound is ovomucin, an egg white protein responsible for the gel-like properties of thick egg white. Previous studies have indicated that ovomucin and ovomucin-derived peptides have several different bioactive properties.

The objectives of the present study were to develop isolation methods for ovomucin, to characterize the structure of ovomucin, to compare various egg fractions as sources of ovomucin, to study the effects of various dissolving methods for ovomucin, and to investigate the bioactive properties of ovomucin and ovomucin-derived peptides.

A simple and rapid method for crude ovomucin separation was developed. By using this method crude ovomucin was isolated within hours, compared to the 1-2 days (including a dialysis step) needed when using several other methods. Structural characterization revealed that ovomucin is composed of two subunits, α- and β-ovomucin, as egg white protein formerly called α1-ovomucin seemed to be ovostatin. However, it might be possible that ovostatin is associated within β- and α-ovomucin. This interaction could even have some effect on the physical nature of various egg white layers.

Although filtration by-product fraction was a very prominent source of both crude and β-ovomucin, process development has reduced its amount so significantly that it has no practical meaning anymore. Thus, the commercial liquid egg white is probably the best option, especially if it generally contains amounts of β-ovomucin as high as were found in these studies. Crude ovomucin was dissolved both by using physical and enzymic methods. Although sonication was the most effective physical method for ovomucin solubilisation, colloid milling seemed to be a very promising alternative. A milk-like, smooth and opaque crude ovomucin suspension was attained by using a colloid mill.

The dissolved ovomucin fractions were further tested for bioactive properties, and it was found that three dissolving methods tested produced moderate antiviral activity against Newcastle disease virus, namely colloid milling, enzymatic hydrolysis and a combination of sonicaton and enzymatic hydrolysis. Moreover, trypsin-digested crude ovomucin was found to have moderate antiviral activity against avian influenza virus: both subtype H5 and H7.