Plant-Herbivore Interaction in a Fragmented Landscape: Local Adaptation and Inbreeding
Kalske, Aino (2015-06-12)
---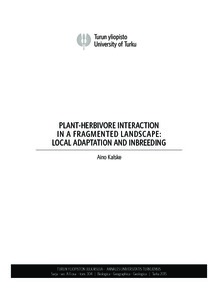 Turun yliopisto Annales Universitatis Turkuensis A II 304
12.06.2015
Julkaisun pysyvä osoite on:
http://urn.fi/URN:ISBN:978-951-29-6136-8
Kuvaus
Siirretty Doriasta
Tiivistelmä
Reciprocal selection between interacting species is a major driver of biodiversity at both the genetic and the species level. This reciprocal selection, or coevolution, has led to the diversification of two highly diverse and abundant groups of organisms, flowering plants and their insect herbivores. In heterogeneous environments, the outcome of coevolved species interactions is influenced by the surrounding community and/or the abiotic environment. The process of adaptation allows species to adapt to their local conditions and to local populations of interacting species. However, adaptation can be disrupted or slowed down by an absence of genetic variation or by increased inbreeding, together with the following inbreeding depression, both of which are common in small and isolated populations that occur in fragmented environments.

I studied the interaction between a long-lived plant Vincetoxicum hirundinaria and its specialist herbivore Abrostola asclepiadis in the southwestern archipelago of Finland. I focused on mutual local adaptation of plants and herbivores, which is a demonstration of reciprocal selection between species, a prerequisite for coevolution. I then proceeded to investigate the processes that could potentially hamper local adaptation, or species interaction in general, when the population size is small. I did this by examining how inbreeding of both plants and herbivores affects traits that are important for interaction, as well as among-population variation in the effects of inbreeding. In addition to bi-parental inbreeding, in plants inbreeding can arise from self-fertilization which has important implications for mating system evolution.

I found that local adaptation of the plant to its herbivores varied among populations. Local adaptation of the herbivore varied among populations and years, being weaker in populations that were most connected. Inbreeding caused inbreeding depression in both plants and herbivores. In some populations inbreeding depression in herbivore biomass was stronger in herbivores feeding on inbred plants than in those feeding on outbred ones. For plants it was the other way around: inbreeding depression in anti-herbivore resistance decreased when the herbivores were inbred. Underlying some of the among-population variation in the effects of inbreeding is variation in plant phenolic compounds. However, variation in the modification of phenolic compounds in the digestive tract of the herbivore did not explain the inbreeding depression in herbivore biomass. Finally, adult herbivores had a preference for outbred host plants for egg deposition, and herbivore inbreeding had a positive effect on egg survival when the eggs were exposed to predators and parasitoids.

These results suggest that plants and herbivores indeed exert reciprocal selection, as demonstrated by the significant local adaptation of V. hirundinaria and A. asclepiadis to one another. The most significant cause of disruption of the local adaptation of herbivore populations was population connectivity, and thus probably gene flow. In plants local adaptation tended to increase with increasing genetic variation. Whether or not inbreeding depression occurred varied according to the life-history stage of the herbivore and/or the plant trait in question. In addition, the effects of inbreeding strongly depended on the population. Taken together, inbreeding modified plant-herbivore interactions at several different levels, and can thus affect the strength of reciprocal selection between species. Thus inbreeding has the potential to affect the outcome of coevolution.