Novel Interaction Techniques for Mobile Augmented Reality applications. A Systematic Literature Review
Härkänen, Lauri; Helle, Seppo; Järvenpää, Lauri; Lehtonen, Teijo (2015-08-17)
---
Novel Interaction Techniques for Mobile Augmented Reality applications. A Systematic Literature Review
Härkänen, Lauri
Helle, Seppo
Järvenpää, Lauri
Lehtonen, Teijo
(17.08.2015)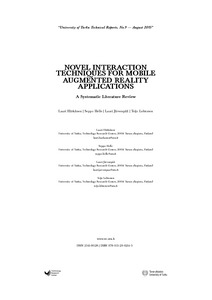 University of Turku, Technology Research Center
Julkaisun pysyvä osoite on:
https://urn.fi/URN:ISBN:978-951-29-6214-3
Kuvaus
Siirretty Doriasta
Tiivistelmä
This study reviews the research on interaction techniques and methods that could be applied in mobile augmented reality scenarios. The review is focused on themost recent advances and considers especially the use of head-mounted displays. Inthe review process, we have followed a systematic approach, which makes the reviewtransparent, repeatable, and less prone to human errors than if it was conducted in amore traditional manner. The main research subjects covered in the review are headorientation and gaze-tracking, gestures and body part-tracking, and multimodality– as far as the subjects are related to human-computer interaction. Besides these,also a number of other areas of interest will be discussed.