Striatal and extrastriatal dopamine D2/3 receptors studied with [11C]raclopride and high-resolution PET
---
Striatal and extrastriatal dopamine D2/3 receptors studied with [11C]raclopride and high-resolution PET
(09.10.2015)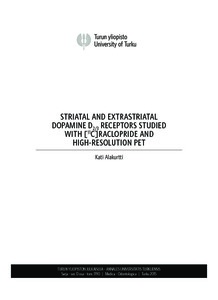 Annales Universitatis Turkuensis D 1190 Turun yliopisto
Julkaisun pysyvä osoite on:
https://urn.fi/URN:ISBN:978-951-29-6247-1
Kuvaus
Siirretty Doriasta
Tiivistelmä
The human striatum is a heterogeneous structure representing a major part of the dopamine (DA) system's basal ganglia input and output. Positron emission tomography (PET) is a powerful tool for imaging DA neurotransmission. However, PET measurements suffer from bias caused by the low spatial resolution, especially when imaging small, D2/3 -rich structures such as the ventral striatum (VST). The brain dedicated high-resolution PET scanner, ECAT HRRT (Siemens Medical Solutions, Knoxville, TN, USA) has superior resolution capabilities than its predecessors. In the quantification of striatal D2/3 binding, the in vivo highly selective D2/3 antagonist [11C] raclopride is recognized as a well-validated tracer.
The aim of this thesis was to use a traditional test-retest setting to evaluate the feasibility of utilizing the HRRT scanner for exploring not only small brain regions such as the VST but also low density D2/3 areas such as cortex. It was demonstrated that the measurement of striatal D2/3 binding was very reliable, even when studying small brain structures or prolonging the scanning interval. Furthermore, the cortical test-retest parameters displayed good to moderate reproducibility. For the first time in vivo, it was revealed that there are significant divergent rostrocaudal gradients of [11C]raclopride binding in striatal subregions.
These results indicate that high-resolution [11C]raclopride PET is very reliable and its improved sensitivity means that it should be possible to detect the often very subtle changes occurring in DA transmission. Another major advantage is the possibility to measure simultaneously striatal and cortical areas. The divergent gradients of D2/3 binding may have functional significance and the average distribution binding could serve as the basis for a future database. Key words: dopamine, PET, HRRT, [11C]raclopride, striatum, VST, gradients, test-retest.
Dopamiini D2/3 reseptorien kuvantaminen korkean resoluution PET kameralla ja [11C]raclopridi merkkiaineella.
Aivojen tyvitumakkeisiin kuuluva aivojuovio on keskeinen dopamiiniaineenvaihdunnan kannalta. PET menetelmällä voidaan tutkia dopamiiniaineenvaihduntaa reseptoritasolla, mutta sen heikkous on huono spatiaalinen resoluutio, etenkin tutkittaessa pieniä aivoalueita kuten aivojuovion ventraalista osaa (VST). Tässä väitöskirjatutkimuksessa on käytetty aivotutkimukseen suunniteltua korkean resoluution PET-kameraa (ECAT HRRT, Siemens Medical Solutions, Knoxville, TN, USA) ja D2/3 dopamiinireseptoreihin spesifisesti sitoutuvaa [11C]raclopridi PET-merkkiainetta.
Tämän väitöskirjatutkimuksen tarkoituksena on selvittää toistomittauksella HRRT kameran soveltuvuutta pienten (VST) ja toisaalta vähän D2/3 reseptoreita sisältävien (aivojen kuorikerros) aivoalueiden kuvantamiseen. HRRT-kameran käyttökelpoisuus osoittautui erittäin hyväksi pienempien aivoalueiden tutkimisessa eikä luotettavuus kärsinyt vaikka kahden mittauksen välistä intervallia pidennettiin. Kuorikerroksen mittauksen luotettavuus oli myös tyydyttävä/hyvä. Lisäksi ensimmäistä kertaa PET menetelmää käyttäen pystyttiin havaitsemaan erisuuntaisia gradientteja [11C]raclopridin sitoutumisessa D2/3 reseptoreihin.
Löydösten perusteella korkean resoluution [11C]raclopridi PET menetelmä on erittäin luotettava ja se mahdollisesti lisää mittauksen sensitiivisyyttä havaita hienovaraisia dopamiiniaineenvaihdunnan muutoksia. [11C]raclopridia voisi tulevaisuudessa mahdollisesti käyttää samanaikaisesti sekä aivojuovion että aivojen kuorikerroksen tutkimiseen, joka toisi lisäinformaatiota dopamiinijärjestestelmän toiminnallisesta järjestäytymisestä aivoissa. Havaituilla erilaisilla gradienteilla [11C]raclopridin sitoutumisessa voi olla funktionaalista merkitystä ja keskimääräistä sitoutumista voitaisiin käyttää myös tietokannan pohjana.