Depth sensors in augmented reality solutions. Literature review
Taskinen, Mika; Lahdenoja, Olli; Säntti, Tero; Jokela, Sami; Lehtonen, Teijo (2015-10-01)
---
Depth sensors in augmented reality solutions. Literature review
Taskinen, Mika
Lahdenoja, Olli
Säntti, Tero
Jokela, Sami
Lehtonen, Teijo
(01.10.2015)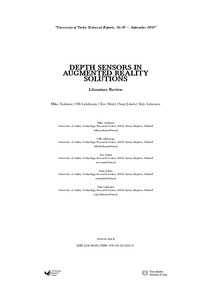 University of Turku, Technology Research Center
Julkaisun pysyvä osoite on:
https://urn.fi/URN:ISBN:978-951-29-6225-9
Kuvaus
Siirretty Doriasta
Tiivistelmä
The emergence of depth sensors has made it possible to track – not only monocular
cues – but also the actual depth values of the environment. This is especially
useful in augmented reality solutions, where the position and orientation (pose) of
the observer need to be accurately determined. This allows virtual objects to be
installed to the view of the user through, for example, a screen of a tablet or augmented
reality glasses (e.g. Google glass, etc.). Although the early 3D sensors have
been physically quite large, the size of these sensors is decreasing, and possibly –
eventually – a 3D sensor could be embedded – for example – to augmented reality
glasses. The wider subject area considered in this review is 3D SLAM methods,
which take advantage of the 3D information available by modern RGB-D sensors,
such as Microsoft Kinect. Thus the review for SLAM (Simultaneous Localization
and Mapping) and 3D tracking in augmented reality is a timely subject. We also try
to find out the limitations and possibilities of different tracking methods, and how
they should be improved, in order to allow efficient integration of the methods to
the augmented reality solutions of the future.