Metal-Ion-Binding Oligonucleotides: High-Affinity Probes for Nucleic Acid Sequences
Taherpour, Sharmin (2015-10-23)
---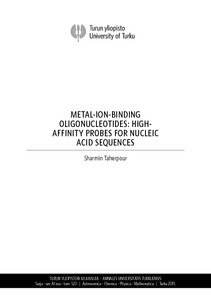 Turun yliopisto Annales Universitatis Turkuensis A I 523
23.10.2015
Julkaisun pysyvä osoite on:
http://urn.fi/URN:ISBN:978-951-29-6253-2
Kuvaus
Siirretty Doriasta
Tiivistelmä
Small non-coding RNAs have numerous biological functions in cell and are divided into different classes such as: microRNA, snoRNA, snRNA and siRNA. MicroRNA (miRNA) is the most studied non-coding RNA to date and is found in plants, animals and some viruses. miRNA with short sequences is involved in suppressing translation of target genes by binding to their mRNA post-transcriptionally and silencing it. Their function besides silencing of the viral gene, can be oncogenic and therefore the cause of cancer. Hence, their roles are highlighted in human diseases, which increases the interest in using them as biomarkers and drug targets. One of the major problems to overcome is recognition of miRNA. Owing to a stable hairpin structure, chain invasion by conventional Watson-Crick base-pairing is difficult. One way to enhance the hybridization is exploitation of metal-ion mediated base-pairing, i. e. oligonucleotide probes that tightly bind a metal ions and are able to form a coordinative bonds between modified and natural nucleobases. This kind of metallo basepairs containing short modified oligonucleotides can also be useful for recognition of other RNA sequences containing hairpin-like structural motives, such as the TAR sequence of HIV. In addition, metal-ion-binding oligonucleotides will undoubtedly find applications in DNA-based nanotechnology. In this study, the 3,5-dimethylpyrazol-1-yl substituted purine derivatives were successfully incorporated within oligonucleotides, into either a terminal or non-terminal position. Among all of the modified oligonucleotides studied, a 2-(3,5-dimethylpyrazol-1-yl)-6-oxopurine base containing oligonucleotide was observed to bind most efficiently to their unmodified complementary sequences in the presence of both Cu2+ or Zn2+. The oligonucleotide incorporating 2,6-bis(3,5-dimethylpyrazol-1-yl)purine base also markedly increased the stability of duplexes in the presence of Cu2+ without losing the selectivity.