Blue and Uv-Emitting Upconversion Nanoparticles: Synthesis and (Bio) Analytical Applications.
Kale, Vishal (2015-11-13)
---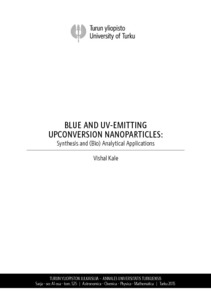 Turun yliopisto Annales Universitatis Turkuensis A I 525
13.11.2015
Julkaisun pysyvä osoite on:
http://urn.fi/URN:ISBN:978-951-29-6289-1
Kuvaus
Siirretty Doriasta
Tiivistelmä
Rare-earth based upconverting nanoparticles (UCNPs) have attracted much attention due to their unique luminescent properties. The ability to convert multiple photons of lower energy to ones with higher energy through an upconversion (UC) process offers a wide range of applications for UCNPs. The emission intensities and wavelengths of UCNPs are important performance characteristics, which determine the appropriate applications. However, insufficient intensities still limit the use of UCNPs; especially the efficient emission of blue and ultraviolet (UV) light via upconversion remains challenging, as these events require three or more near-infrared (NIR) photons.

The aim of the study was to enhance the blue and UV upconversion emission intensities of Tm3+ doped NaYF4 nanoparticles and to demonstrate their utility in in vitro diagnostics. As the distance between the sensitizer and the activator significantly affect the energy transfer efficiency, different strategies were explored to change the local symmetry around the doped lanthanides. One important strategy is the intentional co-doping of active (participate in energy transfer) or passive (do not participate in energy transfer) impurities into the host matrix. The roles of doped passive impurities (K+ and Sc3+) in enhancing the blue and UV upconversions, as well as in influencing the intense UV upconversion emission through excess sensitization (active impurity) were studied. Additionally, the effects of both active and passive impurity doping on the morphological and optical performance of UCNPs were investigated.

The applicability of UV emitting UCNPs as an internal light source for glucose sensing in a dry chemistry test strip was demonstrated. The measurements were in agreement with the traditional method based on reflectance measurements using an external UV light source. The use of UCNPs in the glucose test strip offers an alternative detection method with advantages such as control signals for minimizing errors and high penetration of the NIR excitation through the blood sample, which gives more freedom for designing the optical setup. In bioimaging, the excitation of the UCNPs in the transparent IR region of the tissue permits measurements, which are free of background fluorescence and have a high signal-to-background ratio. In addition, the narrow emission bandwidth of the UCNPs enables multiplexed detections. An array-in-well immunoassay was developed using two different UC emission colours. The differentiation between different viral infections and the classification of antibody responses were achieved based on both the position and colour of the signal. The study demonstrates the potential of spectral and spatial multiplexing in the imaging based array-in-well assays.