The Chromatoid body entourage: Molecular characterization of the Chromatoid body‐associated cytoplasmic vesicles
Da Ros, Matteo (2015-11-27)
---
The Chromatoid body entourage: Molecular characterization of the Chromatoid body‐associated cytoplasmic vesicles
(27.11.2015)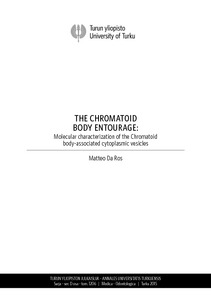 Turun yliopisto
Julkaisun pysyvä osoite on:
https://urn.fi/URN:ISBN:978-951-29-6307-2
Kuvaus
Siirretty Doriasta
Tiivistelmä
Spermatogenesis is a unique process compared to cell differentiation in somatic tissues. Germ cells undergo a considerable number of metabolic and morphological changes during their differentiation: they initially proliferate by mitosis to increase in number; at some point they scramble their genetic material by meiosis, to create new genetic combinations that are the basis for evolution through natural selection and, finally, they change their shape and produce specialized structures characteristic of the mature sperm.

Germ cells display an astonishingly broad transcription of their genome compared to differentiated somatic cells. Moreover, the different RNAs need to be specifically regulated in space and time for sperm production to occur appropriately. Different proteins localized in specific subcellular compartments, along with regulatory small RNAs, have an essential role in the proper execution of the different steps of spermatogenesis. These ribonucleoprotein granules interact with cytoplasmic vesicles and organelles to accomplish their role during sperm development.

In this study, we characterized the most prominent ribonucleoprotein granule found in germ cells, the Chromatoid body (CB). For the first time we investigated the interaction of the CB with the cytoplasmic vesicles that surround it. These studies directed us to the description of Retromer proteins in germ cells and their involvement with the CB and the acrosome formation. Moreover, we discovered the interplay between the CB and the lysosome system in haploid round spermatids, and identified FYCO1, a new protein central to this interaction.

Our results suggest that the vesicular transport system participates in the CB-mediated RNA regulation during sperm development.