Late-onset spinal motor neuronopathy- a new neuromuscular disease
Jokela, Manu (2015-12-11)
---
Late-onset spinal motor neuronopathy- a new neuromuscular disease
(11.12.2015)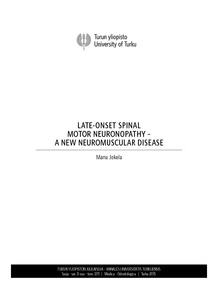 Annales Universitatis Turkuensis D 1211 Turun yliopisto
Julkaisun pysyvä osoite on:
https://urn.fi/URN:ISBN:978-951-29-6333-1
Kuvaus
Siirretty Doriasta
Tiivistelmä
The aim of this study was to clarify the clinical phenotype of late-onset spinal motor neuronopathy (LOSMoN), an adult-onset autosomal dominant lower motor neuron disorder identified first in two families in Eastern Finland, in order to clarify its genetic background.

Motor neuron disorders (MNDs) are characterized by dysfunction and premature death of motor neurons in the brain and spinal cord. MNDs can manifest at any age of the human lifespan, ranging from pre- or neonatal forms such as spinal muscular atrophy type I (SMA I) to those preferentially affecting the older age groups exemplified by sporadic amyotrophic lateral sclerosis (ALS). With a combination of genetic linkage analysis and genome sequencing using DNA from a total of 55 affected members of 17 families and a whole genome scan, we were able to show that LOSMoN is caused by the c.197G>T p.G66V mutation in the gene CHCHD10.

This study showed that LOSMoN has very characteristic features that help to differentiate it from other more malignant forms of motor neuron disease, such as ALS, which was erroneously diagnosed in many patients in our cohort. Lack of fibrillations in the first dorsal interosseus muscle on EMG and extensive grouping of non-atrophic type IIA/2A fibers on muscle biopsy were shown to be common findings in LOSMoN, but rare or absent in ALS patients.

The results of this study will help clinicians recognize the characteristic phenotype of LOSMoN disease and thus improve their diagnostic accuracy, and will also allow physicians to provide adequate genetic counseling for patients.