The alpha2C-adrenoceptor as a neuropsychiatric drug tar-get - PET studies in human subjects
Lehto, Jussi (2015-12-11)
---
The alpha2C-adrenoceptor as a neuropsychiatric drug tar-get - PET studies in human subjects
(11.12.2015)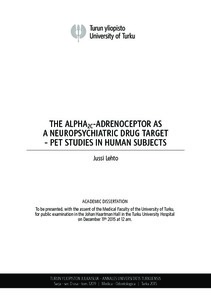 Annales Universitatis Turkuensis D 1209 Turun yliopisto
Julkaisun pysyvä osoite on:
https://urn.fi/URN:ISBN:978-951-29-6323-2
Kuvaus
Siirretty Doriasta
Tiivistelmä
Positron emission tomography imaging has both academic and applied uses in revealing the distribution and density of different molecular targets in the central nervous system. Following the significant progress made with the dopamine D2 receptor, advances have been made in developing PET tracers to allow analysis of receptor occupancy of many other receptor types as well as evaluating changes in endogenous synaptic transmitter concentrations of transmitters e.g. serotonin and noradrenaline.

Noradrenergic receptors are divided into α1-, α2- and β-adrenoceptor subfamilies, in humans each of which is composed of three receptor subtypes. The α2-adrenoceptors have an important presynaptic auto-inhibitory function on noradrenaline release but they also have postsynaptic roles in modulating the release of other neurotransmitters, such as serotonin and dopamine. One of the subtypes, the α2C-adrenoceptor, has been detected at distinct locations in the central nervous system, most notably the dorsal striatum. Several serious neurological conditions causing dementia, Alzheimer's disease and Parkinson's disease have been linked to disturbed noradrenergic signaling. Furthermore, altered noradrenergic signaling has also been implicated in conditions like ADHD, depression, anxiety and schizophrenia.

In order to benefit future research into these central nervous system disorders as well as being useful in the clinical development of drugs affecting brain noradrenergic neurotransmission, validation work of a novel tracer for positron emission tomography studies in humans was performed. Altogether 85 PET imaging experiments were performed during four separate clinical trials. The repeatability of [11C]ORM-13070 binding was tested in healthy individuals, followed by a study to evaluate the dose-dependent displacement of [11C]ORM-13070 from α2C-adrenoceptors by a competing ligand, and the final two studies examined the sensitivity of [11C]ORM-13070 binding to reflect changes in endogenous noradrenaline levels.

The repeatability of [11C]ORM-13070 binding was very high. The binding properties of the tracer allowed for a reliable estimation of α2C-AR occupancy by using the reference tissue ratio method with low test-retest variability. [11C]ORM-13070 was dose-dependently displaced from its specific binding sites by the subtype-nonselective α2-adrenoceptor antagonist atipamezole, and thus it proved suitable for use in clinical drug development of novel α2C-adrenoceptor ligands e.g. to determine the best doses and dosing intervals for clinical trials. Convincing experimental evidence was gained to support the suitability of [11C]ORM-13070 for detecting an increase in endogenous synaptic noradrenaline in the human brain. Tracer binding in the thalamus tended to increase in accordance with reduced activity of noradrenergic projections from the locus coeruleus, although statistical significance was not reached. Thus, the investigation was unable to fully validate [11C]ORM-13070 for the detection of pharmacologically evoked reductions in noradrenaline levels.