Climate change and global responsibility - the role of energy consumption, GDP and CO2 emissions
Kuntsi-Reunanen, Eeva (2015-12-18)
---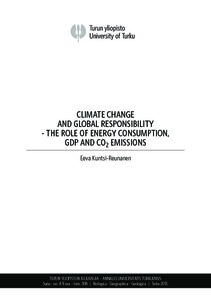 Turun yliopisto Annales Universitatis Turkuensis A II 308
18.12.2015
Julkaisun pysyvä osoite on:
http://urn.fi/URN:ISBN:978-951-29-6311-9
Kuvaus
Siirretty Doriasta
Tiivistelmä
Climate change is one of the biggest challenges faced by this generation. Despite being the single most important environmental challenge facing the planet and despite over two decades of international climate negotiations, global greenhouse gas (GHG) emissions continue to rise. By the middle of this century, GHGs must be reduced by as much as 40-70% if dangerous climate change is to be avoided.

In the Kyoto Protocol no quantitative emission limitation and reduction commitments were placed on the developing countries. For the planning of the future commitments period and possible participation of developing countries, information of the functioning of the energy systems, CO2 emissions development in different sectors, energy use and technological development in developing countries is essential. In addition to the per capita emissions, the efficiency of the energy system in relation to GHG emissions is crucial for the decision of future long-term burden sharing between countries.

Country's future development of CO2 emissions can be defined by the estimated CO2 intensity of the future and the estimated GDP growth. The changes in CO2 intensity depend on several factors, but generally developed countries' intensity has been increasing in the industrialization phase and decreasing when their economy shifts more towards the system dominated by the service sector. The level of the CO2 intensity depends by a large extent on the production structure and the energy sources that are used.

Currently one of the most urgent issues regarding global climate change is to decide the future of the Kyoto Protocol. Negotiations on this topic have already been initiated, with the aim of being finalised by the 2015. This thesis provides insights into the various approaches that can be used to characterise the concept of comparable efforts for developing countries in a future international climate agreement.

The thesis examines the post-Kyoto burden sharing questions for developing countries using the contraction and convergence model, which is one approach that has been proposed to allocate commitments regarding future GHG emissions mitigation. This new approach is a practical tool for the evaluation of the Kyoto climate policy process and global climate change negotiations from the perspective of the developing countries.