Data analysis tools and methods for DNA microarray and high-throughput sequencing data
Laiho, Asta (2016-01-09)
---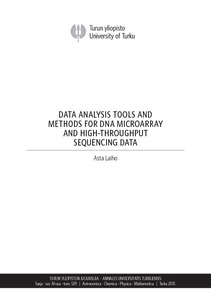 Turun yliopisto Annales Universitatis Turkuensis A I 529
09.01.2016
Julkaisun pysyvä osoite on:
http://urn.fi/URN:ISBN:978-951-29-6355-3
Kuvaus
Siirretty Doriasta
Tiivistelmä
The recent rapid development of biotechnological approaches has enabled the production of large whole genome level biological data sets. In order to handle thesedata sets, reliable and efficient automated tools and methods for data processingand result interpretation are required. Bioinformatics, as the field of studying andprocessing biological data, tries to answer this need by combining methods and approaches across computer science, statistics, mathematics and engineering to studyand process biological data. The need is also increasing for tools that can be used by the biological researchers themselves who may not have a strong statistical or computational background, which requires creating tools and pipelines with intuitive user interfaces, robust analysis workflows and strong emphasis on result reportingand visualization.

Within this thesis, several data analysis tools and methods have been developed for analyzing high-throughput biological data sets. These approaches, coveringseveral aspects of high-throughput data analysis, are specifically aimed for gene expression and genotyping data although in principle they are suitable for analyzing other data types as well. Coherent handling of the data across the various data analysis steps is highly important in order to ensure robust and reliable results. Thus,robust data analysis workflows are also described, putting the developed tools andmethods into a wider context. The choice of the correct analysis method may also depend on the properties of the specific data setandthereforeguidelinesforchoosing an optimal method are given.

The data analysis tools, methods and workflows developed within this thesis have been applied to several research studies, of which two representative examplesare included in the thesis. The first study focuses on spermatogenesis in murinetestis and the second one examines cell lineage specification in mouse embryonicstem cells.