Cardiac Imaging in the Diagnosis of Coronary Artery Disease: The Value of Quantitative Imaging of Myocardial Perfusion and Deformation
Uusitalo, Valtteri (2016-02-13)
---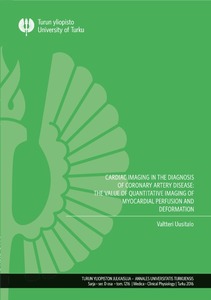 Annales Universitatis Turkuensis D 1216 Turun yliopisto
13.02.2016
Julkaisun pysyvä osoite on:
http://urn.fi/URN:ISBN:978-951-29-6365-2
Kuvaus
Siirretty Doriasta
Tiivistelmä
Atherosclerosis is a chronic and progressive disease of the vasculature. Increasing coronary atherosclerosis can lead to obstructive coronary artery disease (CAD) or myocardial infarction. Computed tomography angiography (CTA) allows noninvasive assessment of coronary anatomy and quantitation of atherosclerotic burden. Myocardial blood flow (MBF) can be accurately measured in absolute terms (mL/g/min) by positron emission tomography (PET) with [15O] H O as a radiotracer.

We studied the coronary microvascular dysfunction as a risk factor for future coronary calcification in healthy young men by measuring the coronary flow reserve (CFR) which is the ratio between resting and hyperemic MBF. Impaired vasodilator function was not linked with accelerated atherosclerosis 11 years later. Currently, there is a global interest in quantitative PET perfusion imaging. We established optimal thresholds of [15O] H O PET perfusion for diagnosis of CAD (hyperemic MBF of 2.3 mL/g/min and CFR of 2.5) in the first multicenter study of this type (Turku, Amsterdam and Uppsala).

In myocardial bridging a segment of the coronary artery travels inside the myocardium and can be seen as intramural course (CTA) or systolic compression (invasive coronary angiography). Myocardial bridging is frequently linked with proximal atherosclerotic plaques. We used quantitative [15O] H O PET perfusion to evaluate the hemodynamic effects of myocardial bridging. Myocardial bridging was not associated with decreased absolute MBF or increased atherosclerotic burden. Speckle tracking allows quantitative echocardiographic imaging of myocardial deformation. Speckle tracking during dobutamine stress echocardiography was feasible and comparable to subjective wall motion analysis in the diagnosis of CAD. In addition, it correctly risk stratified patients with multivessel disease and extensive ischemia.