The role of extracellular matrix macromolecules in cancer and diabetic macroangiopathy – with special reference to decorin and hyaluronan
Sainio, Annele (2016-03-05)
---
The role of extracellular matrix macromolecules in cancer and diabetic macroangiopathy – with special reference to decorin and hyaluronan
(05.03.2016)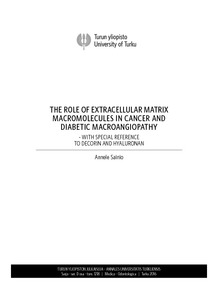 Annales Universitatis Turkuensis D 1218 Turun yliopisto
Julkaisun pysyvä osoite on:
https://urn.fi/URN:ISBN:978-951-29-6390-4
Kuvaus
Siirretty Doriasta
Tiivistelmä
The central role of extracellular matrix (ECM) macromolecules in diseases such as cancer and atherosclerotic vascular diseases including diabetic macroangiopathy is indisputable. Decorin and hyaluronan (HA) represent vital ECM macromolecules in the microenvironment of cells and are centrally involved in human cancer and cardiovascular biology. In cancer, decorin is considered to play a tumor suppressive role. However, there is some discrepancy whether malignant cells express it. Regarding HA, its contribution to the development of atherosclerotic vascular diseases has been well established. Nevertheless, the precise role of HA in arterial narrowing associated with diabetes is not known.

The present study focused on two vital ECM macromolecules, namely decorin and HA. First, decorin expression was studied in human tumorigenesis. Furthermore, the effect of adenovirus-mediated decorin transduction on selected cancer cell lines was investigated. The results invariably showed that cancer cells completely lacked decorin expression. The study also demonstrated that transducing cancer cells with decorin adenoviral vector markedly inhibited their malignant behavior. In line with this, a strong induction of decorin expression in normal human embryonic stem cells (hESCs), but not in abnormal hESCs was observed during their differentiation. Secondly, the significance of HA in the development of diabetic macroangiopathy in response to hyperglycemia was evaluated. Results showed that the synthesis of HA by vascular smooth muscle cells was significantly increased in response to high glucose concentration. This increase was associated with the diminished ability of the cells to contract collagen-rich matrix suggesting that HA participates in the disturbed vascular remodeling of diabetic patients. The results of this study support endeavours to develop novel ECM macromolecule -based therapies targeting cancer and cardiovascular diseases.