Gut Microbiota and Metabolic Disorders
Munukka, Eveliina (2016-03-11)
---
Gut Microbiota and Metabolic Disorders
(11.03.2016)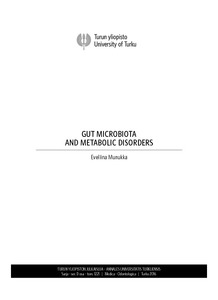 Annales Universitatis Turkuensis D 1221 Turun yliopisto
Julkaisun pysyvä osoite on:
https://urn.fi/URN:ISBN:978-951-29-6408-6
Kuvaus
Siirretty Doriasta
Tiivistelmä
Obesity and its co-morbidities, such as metabolic syndrome (MetS), non-alcoholic fatty liver disease (NAFLD) and type 2 diabetes, have increased over the last few decades like an epidemic. So far the mechanisms of many metabolic diseases are not known in detail and currently there are not enough effective means to prevent and treat them. Several recent studies have shown that the unbalanced gut microbiota composition (GMC) and activity have an influence on the fat accumulation in the body. Further, it seems that the GMC of obese individuals differs from the lean.

The aim of this study was to investigate whether there are differences between the GMC of metabolically impaired overweight/obese (MetS group), metabolically healthy overweight/obese and normal-weight individuals. In addition, the mechanisms by which the gut bacteria as well as their specific structures, such as flagellin (FLG) that stimulates the Toll-like receptor 5 (TLR5) affect metabolism, were investigated both in vivo and in vitro in human adipocytes and hepatocytes.

The results of this study show that the abundance of certain gram-positive bacteria belonging to the Clostridial cluster XIV was higher in the MetS group subjects compared to their metabolically healthy overweight/obese and lean counterparts. Metabolically impaired subjects tended to also have a greater abundance of potentionally inflammatory Enterobacteria in their gut and thus seemed to have aberrant GMC. In addition, it was found that subjects with a high hepatic fat content (HHFC group) had less Faecalibacterium prausnitzii in their gut than individuals with low hepatic fat content. Further gene expression analysis revealed that the HHFC group also had increased inflammation cascades in their adipose tissue.

Additionally, metabolically impaired individuals displayed an increased expression of FLG-recognizing TLR5 in adipose tissue, and the TLR5 expression levels associated positively both with liver fat content and insulin resistance in humans. These changes in the adipose tissue may further contribute to the impaired metabolism observed, such as insulin resistance and dyslipidemia. In vitro -studies showed that the FLG-induced TLR5 activation in adipocytes enhanced the hepatic fat accumulation by decreasing insulin signaling and mitochondrial functions and increasing triglyceride synthesis due to increased glycerol secretion from adipocytes.

In conclusion, the findings of this study suggest that it may be possible that the novel prevention and personalized treatment strategies based on GM modulation will succesfully be developed for obesity and metabolic disorders in the future.