Hydrogen Sensor Application of Anodic Titanium Oxide Nanostructures
Moon, Jongyun (2016-03-11)
---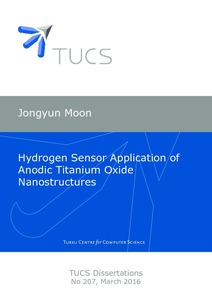 Turku Centre for Computer Science
11.03.2016
Julkaisun pysyvä osoite on:
http://urn.fi/URN:ISBN:978-952-12-3358-6
Kuvaus
Siirretty Doriasta
Tiivistelmä
Hydrogen (H2) fuel cells have been considered a promising renewable energy source. The recent growth of H2 economy has required highly sensitive, micro-sized and cost-effective H2 sensor for monitoring concentrations and alerting to leakages due to the flammability and explosiveness of H2 Titanium dioxide (TiO2) made by electrochemical anodic oxidation has shown great potential as a H2 sensing material. The aim of this thesis is to develop highly sensitive H2 sensor using anodized TiO2. The sensor enables mass production and integration with microelectronics by preparing the oxide layer on suitable substrate.

Morphology, elemental composition, crystal phase, electrical properties and H2 sensing properties of TiO2 nanostructures prepared on Ti foil, Si and SiO2/Si substrates were characterized. Initially, vertically oriented TiO2 nanotubes as the sensing material were obtained by anodizing Ti foil. The morphological properties of tubes could be tailored by varying the applied voltages of the anodization. The transparent oxide layer creates an interference color phenomena with white light illumination on the oxide surface. This coloration effect can be used to predict the morphological properties of the TiO2 nanostructures. The crystal phase transition from amorphous to anatase or rutile, or the mixture of anatase and rutile was observed with varying heat treatment temperatures. However, the H2 sensing properties of TiO2 nanotubes at room temperature were insufficient.

H2 sensors using TiO2 nanostructures formed on Si and SiO2/Si substrates were demonstrated. In both cases, a Ti layer deposited on the substrates by a DC magnetron sputtering method was successfully anodized. A mesoporous TiO2 layer obtained on Si by anodization in an aqueous electrolyte at 5°C showed diode behavior, which was influenced by the work function difference of Pt metal electrodes and the oxide layer. The sensor enabled the detection of H2 (20-1000 ppm) at low operating temperatures (50–140°C) in ambient air. A Pd decorated tubular TiO2 layer was prepared on metal electrodes patterned SiO2/Si wafer by anodization in an organic electrolyte at 5°C. The sensor showed significantly enhanced H2 sensing properties, and detected hydrogen in the range of a few ppm with fast response/recovery time. The metal electrodes placed under the oxide layer also enhanced the mechanical tolerance of the sensor.

The concept of TiO2 nanostructures on alternative substrates could be a prospect for microelectronic applications and mass production of gas sensors. The gas sensor properties can be further improved by modifying material morphologies and decorating it with catalytic materials.