Recognition of nucleic acids by metal ion complexes
Golubev, Oleg (2016-04-15)
---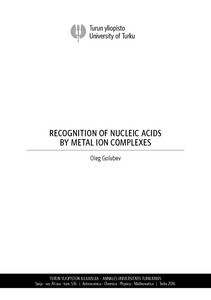 Turun yliopisto Annales Universitatis Turkuensis A I 536
15.04.2016
Julkaisun pysyvä osoite on:
http://urn.fi/URN:ISBN 978-951-29-6431-4
Kuvaus
Siirretty Doriasta
Tiivistelmä
Metal-ion-mediated base-pairing of nucleic acids has attracted considerable attention during the past decade, since it offers means to expand the genetic code by artificial base-pairs, to create predesigned molecular architecture by metal-ion-mediated inter- or intra-strand cross-links, or to convert double stranded DNA to a nano-scale wire. Such applications largely depend on the presence of a modified nucleobase in both strands engaged in the duplex formation. Hybridization of metal-ion-binding oligonucleotide analogs with natural nucleic acid sequences has received much less attention in spite of obvious applications. While the natural oligonucleotides hybridize with high selectivity, their affinity for complementary sequences is inadequate for a number of applications. In the case of DNA, for example, more than 10 consecutive Watson-Crick base pairs are required for a stable duplex at room temperature, making targeting of sequences shorter than this challenging. For example, many types of cancer exhibit distinctive profiles of oncogenic miRNA, the diagnostics of which is, however, difficult owing to the presence of only short single stranded loop structures. Metallo-oligonucleotides, with their superior affinity towards their natural complements, would offer a way to overcome the low stability of short duplexes. In this study a number of metal-ion-binding surrogate nucleosides were prepared and their interaction with nucleoside 5´-monophosphates (NMPs) has been investigated by 1H NMR spectroscopy. To find metal ion complexes that could discriminate between natural nucleobases upon double helix formation, glycol nucleic acid (GNA) sequences carrying a PdII ion with vacant coordination sites at a predetermined position were synthesized and their affinity to complementary as well as mismatched counterparts quantified by UV-melting measurements.