Identification and validation of novel prostate cancer biomarkers
Alinezhad, Saeid (2016-04-15)
---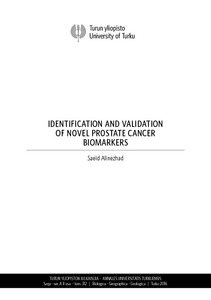 Turun yliopisto Annales Universitatis Turkuensis A II 312
15.04.2016
Julkaisun pysyvä osoite on:
http://urn.fi/URN:ISBN:978-951-29-6420-8
Kuvaus
Siirretty Doriasta
Tiivistelmä
Prostate cancer (PCa) has emerged as the most commonly diagnosed lethal cancer in European men. PCa is a heterogeneous cancer that in the majority of the cases is slow growing: consequently, these patients would not need any medical treatment. Currently, the measurement of prostate-specific antigen (PSA) from blood by immunoassay followed by digital rectal examination and a pathological examination of prostate tissue biopsies are the most widely used methods in the diagnosis of PCa. These methods suffer from a lack of sensitivity and specificity that may cause either missed cancers or overtreatment as a consequence of over-diagnosis. Therefore, more reliable biomarkers are needed for a better discrimination between indolent and potentially aggressive cancers.

The aim of this thesis was the identification and validation of novel biomarkers for PCa. The mRNA expression level of 14 genes including AMACR, AR, PCA3, SPINK1, TMPRSS2-ERG, KLK3, ACSM1, CACNA1D, DLX1, LMNB1, PLA2G7, RHOU, SPON2, and TDRD1 was measured by a truly quantitative reverse transcription PCR in different prostate tissue samples from men with and without PCa. For the last eight genes the function of the genes in PCa progression was studied by a specific siRNA knockdown in PC-3 and VCaP cells.

The results from radical prostatectomy and cystoprostatectomy samples showed statistically significant overexpression for all the target genes, except for KLK3 in men with PCa compared with men without PCa. Statistically significant difference was also observed in low versus high Gleason grade tumors (for PLA2G7), PSA relapse versus no relapse (for SPON2), and low versus high TNM stages (for CACNA1D and DLX1). Functional studies and siRNA silencing results revealed a cytotoxicity effect for the knock-down of DLX1, PLA2G7, and RHOU, and altered tumor cell invasion for PLA2G7, RHOU, ACSM1, and CACNA1D knock-down in 3D conditions. In addition, effects on tumor cell motility were observed after silencing PLA2G7 and RHOU in 2D monolayer cultures. Altogether, these findings indicate the possibility of utilizing these new markers as diagnostic and prognostic markers, and they may also represent therapeutic targets for PCa.