Understanding the bioactivity of plant tannins: developments in analysis methods and structure-activity studies
Engström, Marica (2016-06-17)
---
Understanding the bioactivity of plant tannins: developments in analysis methods and structure-activity studies
(17.06.2016)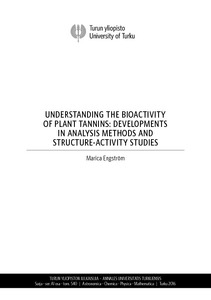 Turun yliopisto Annales Universitatis Turkuensis A I 540
Julkaisun pysyvä osoite on:
https://urn.fi/URN:ISBN:978-951-29-6499-4
Kuvaus
Siirretty Doriasta
Tiivistelmä
Tannins, typically segregated into two major groups, the hydrolyzable tannins (HTs) and the proanthocyanidins (PAs), are plant polyphenolic secondary metabolites found throughout the plant kingdom. On one hand, tannins may cause harmful nutritional effects on herbivores, for example insects, and hence they work as plants' defense against plant-eating animals. On the other hand, they may affect positively some herbivores, such as mammals, for example by their antioxidant, antimicrobial, anti-inflammatory or anticarcinogenic activities. This thesis focuses on understanding the bioactivity of plant tannins, their anthelmintic properties and the tools used for the qualitative and quantitative analysis of this endless source of structural diversity.

The first part of the experimental work focused on the development of ultra-high performance liquid chromatography−tandem mass spectrometry (UHPLC-MS/MS) based methods for the rapid fingerprint analysis of bioactive polyphenols, especially tannins. In the second part of the experimental work the in vitro activity of isolated and purified HTs and their hydrolysis product, gallic acid, was tested against egg hatching and larval motility of two larval developmental stages, L1 and L2, of a common ruminant gastrointestinal parasite, Haemonchus contortus. The results indicated clear relationships between the HT structure and the anthelmintic activity. The activity of the studied compounds depended on many structural features, including size, functional groups present in the structure, and the structural rigidness. To further understand tannin bioactivity on a molecular level, the interaction between bovine serum albumin (BSA), and seven HTs and epigallocatechin gallate was examined. The objective was to define the effect of pH on the formation on tannin–protein complexes and to evaluate the stability of the formed complexes by gel electrophoresis and MALDI-TOF-MS. The results indicated that more basic pH values had a stabilizing effect on the tannin–protein complexes and that the tannin oxidative activity was directly linked with their tendency to form covalently stabilized complexes with BSA at increased pH.