Integrin traffic and signalling – from plasma membrane to endosomes
Alanko, Jonna (2016-08-26)
---
Integrin traffic and signalling – from plasma membrane to endosomes
(26.08.2016)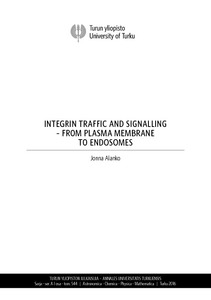 Turun yliopisto Annales Universitatis Turkuensis A I 544
Julkaisun pysyvä osoite on:
https://urn.fi/URN:ISBN:978-951-29-6558-8
Kuvaus
Siirretty Doriasta
Tiivistelmä
Integrins are the main cell surface receptors by which cells adhere to the surrounding extracellular matrix (ECM). Cells regulate integrin-mediated adhesions by integrin endo/exocytic trafficking or by altering the integrin activation status. Integrin binding to ECM-components induces several intracellular signalling cascades, which regulate almost every aspect of cell behaviour from cell motility to survival, and dysregulation of integrin traffic or signalling is associated with cancer progression.

Upon detachment, normal cells undergo a specialised form of programmed cell death namely anoikis and the ECM-integrin -mediated activation of focal adhesion kinase (FAK) signalling at the cell surface has been considered critical for anoikis suppression. Integrins are also constantly endocytosed and recycled back to the plasma membrane, and so far the role of integrin traffic in cancer has been linked to increased adhesion site turnover and cell migration. However, different growth factor receptors are known to signal also from endosomes, but the ability of integrins to signal from endosomes has not been previously studied.

In this thesis, I demonstrate for the first time that integrins are signalling also from endosomes. In contrast to previous believes, integrin-induced focal adhesion kinase (FAK) signalling occurs also on endosomes, and the endosomal FAK signalling is critical for anoikis suppression and for cancer related processes such as anchorage-independent growth and metastasis. Moreover, we have set up a new integrin trafficking assay and demonstrate for the first time in a comprehensive manner that active and inactive integrins undergo distinct trafficking routes. Together these results open up new horizons in our understanding of integrins and highlight the fundamental connection between integrin traffic and signalling.