Covalent conjugates of therapeutic oligonucleotides for in vivo targeting
Jadhav, Satish (2016-09-30)
---
Covalent conjugates of therapeutic oligonucleotides for in vivo targeting
(30.09.2016)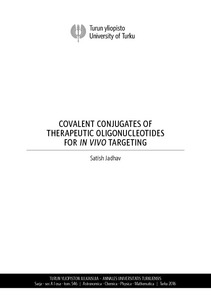 Turun yliopisto Annales Universitatis Turkuensis A I 546
Julkaisun pysyvä osoite on:
https://urn.fi/URN:ISBN:978-951-29-6574-8
Kuvaus
Siirretty Doriasta
Tiivistelmä
Over last few years, the development of oligonucleotide based therapeutics (antisense, siRNA, antagomirs) have received much interest as a novel class of drugs for the treatment of many diseases. Cell/organ specific targeting of oligonucleotides by covalent conjugation has become a promising approach for developing therapeutic RNAs. The major obstacle in the use of therapeutic RNAs is the cell/organ specific targeting and internalization of the large anionic oligonucleotides across the plasma membrane of the cells.

This thesis focuses on the synthesis of different receptor specific ligand conjugates of oligonucleotides. The oligonucleotides are conjugated with different targeting ligands such as i) Galactose cluster, ii) Hyaluronic acid hexamer, and iii) Bisphosphonate derivative. Multi-galactose-conjugated 2'-O-methyl oligoribonucleotides showed remarkable galactose-dependent liver targeting of the conjugates monitored by in vivo positron emission tomography (PET) imaging in healthy rats. Hyaluronic acid hexasaccharide oligonucleotide were conjugated efficiently by using copper free click reaction (SPAAC conjugation approach) and also studied by in vivo PET imaging in myocardial infarction rat models. Bone targeting bisphosphonate oligonucleotide conjugates were prepared by SPAAC conjugation approach and in vivo PET imaging exhibited enriched radioactivity accumulation to bones in healthy rats. Additionally, a straightforward method was described for the synthesis of solid supported porphyrin biomolecule conjugates. The whole-body distribution of the conjugates in rats was monitored by PET. These oligonucleotide conjugates were efficiently labeled by complexing 68Ga, with a 3´-terminal 1,4,7-triazacyclononane-1,4,7-triyl)triacetic acid (NOTA) ligand. This allowed in vivo quantification of oligonucleotide pharmacokinetics and bio-distribution data in rats.