New Roads to Genomic Imbalance: Microrna- and Protein Phosphatase-Mediated Regulation of Mitosis
Tambe, Mahesh (2016-09-16)
---
New Roads to Genomic Imbalance: Microrna- and Protein Phosphatase-Mediated Regulation of Mitosis
(16.09.2016)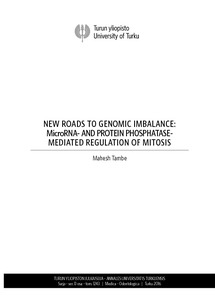 Annales Universitatis Turkuensis D 1243 Turun yliopisto
Julkaisun pysyvä osoite on:
https://urn.fi/URN:ISBN:978-951-29-6578-6
Kuvaus
Siirretty Doriasta
Tiivistelmä
The Spindle Assembly Checkpoint (SAC) works to maintain the genomic balance by monitoring the correctness of attachments between the chromosomes and microtubules during early cell division (mitosis). Importantly, chromosome missegregation and genomic instability is caused by defects in SAC function, which can lead to cell transformation and cancer. Moreover, malfunction of SAC can confer resistance to microtubule-targeting drugs (MTAs) such as paclitaxel. The identification and functional characterization of novel SAC regulating biomolecules and analysis of their expression profiles in tumor cells may in the future facilitate improved cancer diagnosis and predict patient's response to MTA therapy. The microRNA- (miRNA) and protein phosphatase-mediated regulation of mitotic signaling were investigated in my thesis. First, to identify new miRNAs that regulate SAC signaling, a cell-based high-throughput screen (HTS) was performed to test the ability of 810 different pre-miRNAs to override a drug imposed M phase arrest. The HTS led to the discovery of miR-378a-5p and miR-493-3p as suppressors of MTA action in vitro. Further molecular biology experiments revealed that miR-378a-5p and miR-493-3p negatively regulated the expression of AURKB and MAD2L1, respectively. Retrospective analysis of ovarian and breast cancer samples in vivo indicated deregulated expression of both miRNAs in different tumor grades and subtypes compared to healthy tissues. Moreover, high expression of miR-493-3p was found to associate with reduced survival of ovarian and breast cancer patients with aggressive tumors, especially if the patients were treated with paclitaxel chemotherapy in comparison to epirubicin. Secondly, the functions of the Dual specificity protein phosphatase 3 (Dusp3) in dividing cells were explored. The maintenance of bipolar spindle architecture during mitosis was found to be dependent on Dusp3. In summary, the previously unknown mitotic functions for three biomolecules, namely miR-378a-5p, miR-493-3p and Dusp3 were identified. The determination of miR-378a-5p and miR-493-3p expression profiles, in tumor samples can in the future assist in cancer subtyping and selecting the most effective chemotherapy for ovarian and breast cancer patients with advanced disease.