The Role of DbpA and B adhesins in the pathogenesis of Lyme borreliosis
Salo, Jemiina (2016-09-30)
---
The Role of DbpA and B adhesins in the pathogenesis of Lyme borreliosis
(30.09.2016)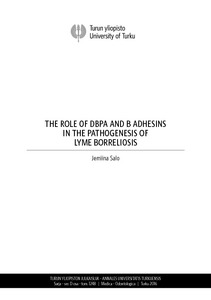 Annales Universitatis Turkuensis D 1248 Turun yliopisto
Julkaisun pysyvä osoite on:
https://urn.fi/URN:ISBN:978-951-29-6588-5
Kuvaus
Siirretty Doriasta
Tiivistelmä
Lyme borreliosis is a tick-borne infectious disease common in the Northern hemisphere. It is most commonly caused by B. burgdorferi sensu stricto, B. garinii or B. afzelii. The Borrelia bacteria have several surface proteins, or adhesins, which mediate attachment to different tissues and molecules in the host. Two of these adhesins, Decorin binding protein A and B (DbpA and B) facilitate bacterial adhesion to extracellular proteoglycan decorin. The aim, therefore, of this study is to characterize and compare the biological activities of DbpA and B of the three genospecies and elucidate the role of these interactions in the pathogenesis of Lyme borreliosis.
This study shows that Dbps have different binding properties to decorin and decorin expressing cells. In addition to decorin, the Dbps facilitate bacterial adhesion to another proteoglycan, biglycan, and biglycan expressing cells. Biglycan as a molecule is highly similar to decorin, but its tissue distributions in humans and other mammals vary significantly. Borrelia is able to attach to human vascular endothelial cells through an interaction with biglycan, and the Dbps of B. garinii facilitate the flow tolerant bacterial adhesion to endothelial cells. Furthermore, DbpA and B adhesins are both needed for full arthritis development in mice, and they enable the bacteria to persist as DNA after the antibiotic treatment in mice.
This study demonstrates the biological differences of DbpA and B of B. burgdorferi sensu stricto, B. garinii and B. afzelii, and reveals a greater role of the adhesins in the pathogenesis of Lyme borreliosis than was previously assumed.