Establishment and Enhancement of Mu in vitro DNA Transposition Applications: Novel Procedures and New Tools
Pulkkinen, Elsi (2016-10-21)
---
Establishment and Enhancement of Mu in vitro DNA Transposition Applications: Novel Procedures and New Tools
(21.10.2016)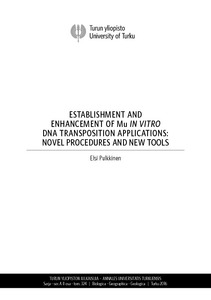 Turun yliopisto Annales Universitatis Turkuensis A II 324
Julkaisun pysyvä osoite on:
https://urn.fi/URN:ISBN:978-951-29-6592-2
Kuvaus
Siirretty Doriasta
Tiivistelmä
Transposable elements, or transposons, are DNA segments that have the ability to move from one location on the genome to another. They have been widely utilized as molecular tools in the study of prokaryotes, plants, invertebrates, and recently also in vertebrates. Custom-designed transposons are easy to generate, as any DNA fragment can be inserted between the transposon ends, and this flexibility makes them suitable for a number of different purposes, such as gene delivery and genome modification. One of the best-characterized DNA transposition systems is that of the Mu bacteriophage. The simplified in vitro reaction of Mu is widely used as a tool for genetic studies. Mu transposition is mediated by a DNA transposition complex, the Mu transpososome, which is assembled when four transposase proteins bind to sequence-specific binding sites at each transposon end. In this thesis, two novel Mu in vitro transposition-based applications were established, the first for measuring the transpositional activity of transposition complexes, and the second for the cloning of circular DNA. In addition, hyperactive MuA transposase variants were generated and their properties were characterized in the context of the function of the Mu transpososome.

The methods established in this thesis are useful additions to the transposon toolbox. In particular, the hyperactive MuA variants that were generated here will substantially improve the use and development of in vitro applications based on the Mu system, which could potentially include the development of gene therapy applications. Furthermore, the results with hyperactive MuA variants can be used for structure-function studies of other similar transposases or close relatives, such as HIV integrase, creating opportunities for accelerated progress in this field of research.