Effects of human papillomavirus-specific immunity on the outcome of HPV infections in women
Paaso, Anna (2016-10-14)
---
Effects of human papillomavirus-specific immunity on the outcome of HPV infections in women
(14.10.2016)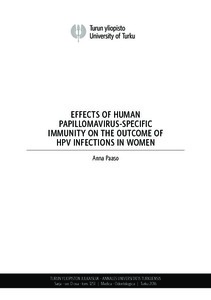 Annales Universitatis Turkuensis D 1251 Turun yliopisto
Julkaisun pysyvä osoite on:
https://urn.fi/URN:ISBN:978-951-29-6615-8
Kuvaus
Siirretty Doriasta
Tiivistelmä
The host's inadequate HPV-specific cell-mediated immune system might be crucial in HPV-specific tumor development.

This thesis is part of the longitudinal Finnish Family HPV Study and is focused on HPV16-specific cell-mediated immunity in women. PBMCs were stimulated with HPV16 E2, E6 and E7 peptides, and subsequent cytokine secretion was assessed. Women were divided into four subgroups based on their oral or genital HPV status and HPV serology collected during the 6 years follow up. The genotype-specific concordance between cervical and oral HPV infection and HPV serology was also assessed. The effect of the mothers' cervical intraepithelial neoplasia on their offspring's HPV16-specific cell-mediated immunity was evaluated.

The results showed that HPV infection in either the cervix or oral mucosa resulted in similar HPV16-specific cell-mediated immunity. The lack of HPV16 E2- and E6-specific T memory cells and Th2 cytokines predisposed women for persistent oral HPV16 infection, whereas women who remained oral HPV16-negative during the FU responded more frequently to HPV16 E2 and E6 peptides and had a more prominent profile of Th1 cytokines. In addition, children showed HPV16-specific proliferation. No concordance was found between HPV L1 serology and the presence of HPV DNA in either the cervix or the oral mucosa. Women who cleared their infection had the highest antibody titers.

HPV16-specific T memory cells were common in both HPV16 DNA-positive and -negative women and in their offspring. The Th2 cytokine profile might also predispose to persistent oral HPV16 infection. High HPV16 antibody titers might be a sign of clearance of cervical HPV infection.