The VII Conference on Childhood Studies: Childhood in everyday life. June 6th–8th 2016 | Turku, Finland. Abstract book
---
The VII Conference on Childhood Studies: Childhood in everyday life. June 6th–8th 2016 | Turku, Finland. Abstract book
(05.10.2016)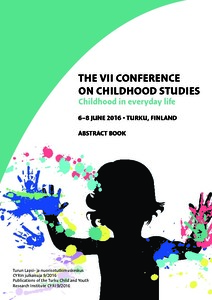 Turun Lapsi- ja nuorisotutkimuskeskus CYRIn julkaisuja 9/2016. Publications of the Turku Child and Youth Research Institute CYRI 9/2016 Turun yliopisto
Julkaisun pysyvä osoite on:
https://urn.fi/URN:NBN:fi-fe201701041065
Kuvaus
Siirretty Doriasta
Tiivistelmä
Everyday life is often neglected as a self-evident and ordinary part of human life. Yet, it is comprised of numerous practices and structures which influence people's well-being, determine their status in the society and guide their choices even till the future generations. Children are particularly dependent on the frameworks of everyday life, at the same time as children themselves influence everyday life in a fundamental way.

Everyday life is built on and shaped by a number of informal and formal institutions, which not only help one to adapt to everyday life, but also are adaptable themselves. At the same time as everyday routines are necessary for children's growth and development, children influence the course of the daily life by creating their own customs and spaces in it. Since everyday practices are not free from values, they evoke a lively and passionate discussion within and between various childhood institutions. Customs and habits associated with everyday practices have been proven to be bound to class and culture, but also to be changing and historic. Everyday routines have an obvious link to children's health and well-being, but they also have a strong cultural system of codes and history.

By offering a multidisciplinary forum for researchers across disciplinary boundaries, the VII Conference on Childhood Studies, 'Childhood in everyday life - everyday life in childhood' aims at opening up diverse approaches to childhood studies and to generate new openings in the interpretations concerning it.

The Conference on Childhood Studies has established itself as a leading multidisciplinary forum for research on children and childhood in Finland. The Finnish Society for Childhood Studies has been organizing the event since 2008, each time together with the local organizers. The Finnish Society for Childhood Studies is a scientific, non-profit organization that aims to promote multi- and interdisciplinary research on childhood and children, and enhance collaboration between researchers working in the area. To pursue its aims, the Society arranges conferences, seminars and other events for researchers, policy-makers, professionals and for wider audience. The VII Conference on Childhood Studies is organized jointly with the University of Turku, Child and Youth Research Institute.