Polyviologens: Electrochemical Synthesis and Characterization
Wang, Nianxing (2016-10-14)
---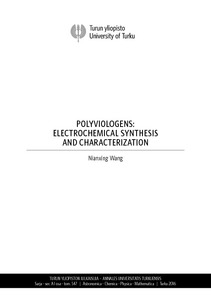 Turun yliopisto Annales Universitatis Turkuensis A I 547
14.10.2016
Julkaisun pysyvä osoite on:
http://urn.fi/URN:ISBN:978-951-29-6612-7
Kuvaus
Siirretty Doriasta
Tiivistelmä
Microelectronics and flexible electronics are applications that have attracted more and more attention in the today's world. The research of these kinds of electronics requires the development and improvement of existing functional materials. The viologen is one of the most frequently utilized functional materials in many different applications. Due to its unique redox property and variety of colors, the viologen materials have got worldwide attention in different fields of research.
In this work, several crosslinked polyviologen and copolyviologen film were synthesized electrochemically from different cyanopyridine based precursors. Additionally, the polyviologen based composite film was also synthesized with the introduction of graphene oxide. All of these polyviologen materials were characterized with several electrochemical, physicochemical and imaging techniques, such as cyclic voltammetry, electrochemical impendence spectroscopy, in-situ UV-vis spectroscopy, FTIR and Raman spectroscopy, Atomic Force Microscopy, Scanning Electron Microscopy and the contact angle technique, just to mention the most used techniques. All of the synthesized polyviologen materials showed good redox properties and unique structures, so they possess great possibility to be applied in several different fields of applications.
Due to their stable redox properties and unique porous structures, the polyviologen films have shown huge potential in the applications, both as functional materials and immobilization material, properties advantageous in varies electronics where minimization and flexibility are important parameters to achieve. By introduction of graphene oxide, the electrochemical properties of polyviologen-reduced graphene oxide based composite films could be improved making the composite structures an interesting material candidate when thinking about energy storage devices. All of these results indicate that polyviologen materials can work as multifunctional material in future applications.