Evaluation of xylitol use and bitewing radiographs among school-aged children in a low-caries level population
Hietala-Lenkkeri, Aija-Maaria (2016-10-21)
---
Evaluation of xylitol use and bitewing radiographs among school-aged children in a low-caries level population
Hietala-Lenkkeri, Aija-Maaria
(21.10.2016)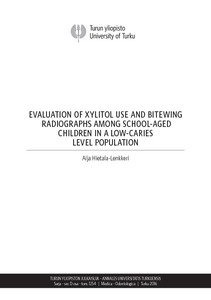 Annales Universitatis Turkunesis D 1254 Turun yliopisto
Julkaisun pysyvä osoite on:
https://urn.fi/URN:ISBN:978-951-29-6627-1
Kuvaus
Siirretty Doriasta
Tiivistelmä
The objective of the present work was to study, in a low-caries level population, the additional caries-preventive effect of xylitol/maltitol and erythritol/maltitol lozenges delivered at school, in comparison with the comprehensive routine prevention provided by the public dental health care. Also the literature on xylitol, considering the caries level of the population, as well as the in vitro mechanisms of action of xylitol and erythritol were evaluated. Further, the additional value of bitewing radiographic examination in the detection of caries was studied.

In a four-year, cluster-randomized, double-blinded clinical trial, 579 informed and consenting 10-year-olds were randomly assigned to receive xylitol or erythritol lozenges (one or two years) in addition to the comprehensive prevention, or to a control group receiving only comprehensive prevention. In the cross-sectional study, 363 pairs of radiographs obtained from these subjects at 14 years of age were analyzed.

The use of the lozenges did not result in caries reduction. A strong relationship between baseline caries level and the caries increment was observed. The conducted systematic review revealed that caries-preventive effect of xylitol was well shown in high-caries level populations. Both xylitol and erythritol decreased the adherence of polysaccharide-producing oral streptococci. Approximately half of the subjects benefited from the radiographic examination.

In a population with low caries occurrence the size of the caries-preventive effect of a polyol and the method required for reliable caries detection according to the contemporary caries management criteria seem to differ from those observed in a population with a high caries level. The observations on erythritol call for additional well-designed randomized clinical trials studying the properties of erythritol in varying levels of caries occurrence.
It can be recommended that in public dental health care the preventive methods used in addition to the comprehensive routine caries prevention should be targeted at children with clinical signs of dental caries or fillings.