Rhinovirus infections in young children: Clinical manifestations, susceptibility, and host response
Toivonen, Laura (2016-10-28)
---
Rhinovirus infections in young children: Clinical manifestations, susceptibility, and host response
(28.10.2016)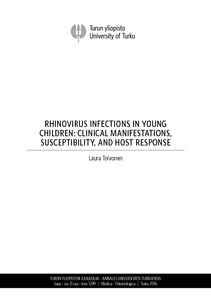 Annales Universitatis Turkuensis D 1249 Turun yliopisto
Julkaisun pysyvä osoite on:
https://urn.fi/URN:ISBN:978-951-29-6590-8
Kuvaus
Siirretty Doriasta
Tiivistelmä
Rhinoviruses are the most common cause of respiratory infections, but the burden of rhinovirus infections in young children has not been evaluated. A diagnostic marker of virus infections detecting also rhinovirus infections could be useful for avoiding the unnecessary use of antibiotics.

In this prospective birth cohort study, we followed 1570 children for acute respiratory infections from birth to two years of age. We aimed to establish the burden of rhinovirus infections in young children and to study the genetic susceptibility and blood myxovirus resistance protein A (MxA) response to respiratory infections.

Altogether 12 846 episodes of acute respiratory infection were documented with an annual rate of 5.9 per child. Rhinovirus was detected in 59% of acute respiratory infections that were analyzed for viruses. Rhinoviruses were associated with 50% of acute otitis media episodes, 41% of wheezing illnesses, 49% of antibiotic treatments, and 48% of outpatient office visits for acute respiratory infections. The estimated annual rate of rhinovirus infections was 3.5 per child. Children with recurrent respiratory infections were at an increased risk for asthma in early childhood. Genetic polymorphisms of mannose-binding lectin and toll-like receptors were associated with the risk of respiratory infections. Blood MxA protein levels were increased in children with symptomatic virus infections, including rhinovirus infections, as compared to asymptomatic virus-negative children.

Rhinovirus infections impose a major burden of acute respiratory illness and antibiotic use on young children. Genetic polymorphisms may partly explain why some children are more prone to respiratory infections. Blood MxA protein is an informative marker of viral respiratory infections including rhinovirus infections.