TV White Space Network Interference Measurements and Application Pilot Trials. Final report from field measurement campaigns and application pilot trials in WISE projects during 2011-2014
Kalliovaara, Juha; Paavola, Jarkko; Ekman, Reijo; Kivinen, Arto; Talmola, Pekka (2016-11-14)
---
TV White Space Network Interference Measurements and Application Pilot Trials. Final report from field measurement campaigns and application pilot trials in WISE projects during 2011-2014
Kalliovaara, Juha
Paavola, Jarkko
Ekman, Reijo
Kivinen, Arto
Talmola, Pekka
(14.11.2016)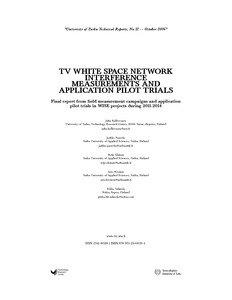 University of Turku, Technology Research Center
Julkaisun pysyvä osoite on:
https://urn.fi/URN:ISBN:978-951-29-6639-4
Kuvaus
Siirretty Doriasta
Tiivistelmä
This report describes TV white space network measurements and trials conducted in Finnish WISE projects during 2011-2014. A TV White Space test network environment was developed and built in Turku, Finland, to aid in standardization and to demonstrate technical capabilities of TV white space networks. The test network environment was the first in Europe having a geolocation database to control the frequency use. This report introduces interference measurements conducted to aid in the standardization work in CEPT/ECC SE43 group. These measurements and the work in the SE43 group served as base information in the creation of an ETSI harmonised standard for TV white space devices, ETSI EN 301 598. The report also presents two application pilot trials conducted to demonstrate the technical feasibility of TV white space networks: a long-term video surveillance trial in Turku and Helsinki area public transport ticket sales and transit information screens trial.