Discontinuous fiber-reinforced composite for dental reconstructions - Studies of the fracture resistance and the mechanical properties of the material used for extensive direct restorations
Bijelic-Donova, Jasmina (2016-12-09)
---
Discontinuous fiber-reinforced composite for dental reconstructions - Studies of the fracture resistance and the mechanical properties of the material used for extensive direct restorations
(09.12.2016)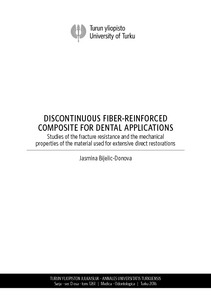 Annales Universitatis Turkuensis D 1261 Turun yliopisto
Julkaisun pysyvä osoite on:
https://urn.fi/URN:ISBN:978-951-29-6652-3
Kuvaus
Siirretty Doriasta
Tiivistelmä
Earlier developed low aspect ratio dental discontinuous-FRC are micrometer-scale discontinuous-FRCs, which lack sufficient strength and fracture toughness to reinforce structures reinforced with them. The aim of this thesis was to evaluate the fracture resistance, the bonding properties as well as some mechanical properties of newly developed millimeter-scale discontinuous-FRC. Fiber- and matrix related properties were also analyzed.

Four studies were designed to evaluate the fracture resistance and the failure mode of anterior restorations reinforced with millimeter-scale discontinuous-FRC, to assess the shear bonding strength between incrementally placed layers of this fibrous composite, to measure the thickness and the effect of the oxygen inhibition layer (OIL) on the interlayer bonding characteristics as well as to determine various physicomechanical properties. In addition, fiber related properties, including fiber volume fraction, fiber length, critical fiber length and fiber diameter, and matrix related properties, fiber orientation were computed.

The results of these studies show that the use of millimeter-scale discontinuous-FRC post-core-crown structure was advantageous in terms of both provided reinforcement and failure mode. Furthermore, it was found that OIL presence improves the interlayer connection. The protruding fibers ends at the interface between the fibrous composite layers and the semi-IPN were considered to promote the durable adhesion upon OIL removal. Millimeter-scale fibers substantially improved the fracture toughness owing to the fibers ability to bridge the crack, blunt the crack tip and carry the load, accompanied with the semi-IPN aided plasticity. However, fibers shorter than 0.4 mm most likely behave as reinforcing filler particles instead of reinforcing fibers. Furthermore, fiber orientation was found to be important for impeding the crack progression.

These studies suggest that millimeter-scale discontinuous-FRC should accompany the individually FRC post insertion and should fill the pulp chamber and extend coronally as core material, to provide retention and to strengthen the cervical portion of the tooth. Alternatively, it could be used as post-core structure. In both cases homogenous unit is assumed, due to the identical composition of the materials. Upon curing, the OIL should be left on the surface of the composite and should not be contaminated. This could improve the bonding and improve the inherent fracture resistance of the material. This was observed also in the ability of the material to resist the fracture propagation, which approached the toughness value of dentin. These studies indicate that the benefits of using millimeter-scale discontinuous-FRC are especially the improved fracture toughness and resistance to fracture, as well as improved interlayer bonding compared to conventional composites. Moreover, using of millimeter-scale discontinuous-FRC changes the fracture pattern and more reparable fractures were found for this material.