The Effects of Copper Exposure on Life-History Traits in Insects
Pölkki, Mari (2016-12-16)
---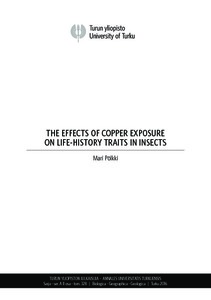 Turun yliopisto Annales Universitatis Turkuensis A II 328
16.12.2016
Julkaisun pysyvä osoite on:
http://urn.fi/URN:ISBN:978-951-29-6660-8
Kuvaus
Siirretty Doriasta
Tiivistelmä
Human-caused environmental pollution is a fast-growing and devastating threat that organisms have to face and tolerate. The primary aim of this thesis was to experimentally study the direct and trans-generational effects, costs and possible trade-offs of developmental copper exposure on traits expressed in later life. I have used two insect species, a blow fly, Protophormia terraenovae, and the common fruit fly, Drosophila melanogaster, as model species.

First, I studied the potential interaction effect between two different environmental conditions on condition-dependent traits such as immune function. I found that the effects of copper on immunity and other life-history traits are temperature-dependent. In addition, females and males responded differently to environmental stressors, suggesting that the costs of copper exposure are compensated from distinct sources.

Environmental conditions experienced by the parental generation had effects on their progeny. I found that direct exposure to copper activated the immune system of the parental generation, but more importantly, this activation was trans-generationally transmitted to their offspring, even if the copper exposure was no longer apparent. Maintenance of unnecessarily high immune functions consumes valuable energy and these costs can be detected under conditions where individuals are not able to compensate the costs by increasing their resource intake. I explored the potential costs and trade-offs caused by the elevated immune functions under starvation conditions. Individuals exposed to copper survived longer under starvation, suggesting that the costs are compensated between other traits than starvation resistance.

Direct exposure to copper impaired female fecundity in the parental generation, and this trait was trans-generationally transmitted to their offspring. More specifically, individuals whose parents were exposed to copper expressed reduced fecundity under uncontaminated conditions. Conversely, if the offspring condition corresponded to the parental condition, no difference in fecundity was discovered. Results show that exposure to copper has trans-generational effects on fecundity but short-term exposure might generate acclimatization to the prevailing conditions. Lastly, I explored the potential mechanism for compensating the costs of copper exposure by measuring the metabolic rate. Males exposed to copper had a lower metabolic rate, whereas no difference among females was detected.

To conclude, the effects of environmental pollution on different traits can be trans-generationally transmitted to the following generations, indicating that environmental pollutants can have far reaching effects on animal populations, including humans. Indeed, the effects of pollutants on animal populations may remain, even if the pollutant itself is no longer apparent. Secondly, short-term exposure may generate acclimatization to prevailing conditions, which might in turn incorporate expenses, and animals might suffer reduced fecundity under uncontaminated conditions. Further, I discovered a difference in resource allocation in response to environmental stressors between sexes. To summarize, pollutants may have more complex and far reaching effects on animal populations than previously considered. I hope that with this thesis I will draw attention to the fast increasing concerns of environmental pollution. Even though the deleterious effects of many pollutants have been recognized, growing numbers of new chemicals are being emitted, with their effects on animal populations, and on us, being yet mainly unknown.