Evaluation of Macrophage-Targeting PET Tracers for Imaging Inflammation in Atherosclerosis
Hellberg, Sanna (2017-01-20)
---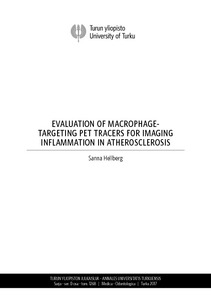 Annales Universitatis Turkuensis D 1268 Turun yliopisto
20.01.2017
Julkaisun pysyvä osoite on:
http://urn.fi/URN:ISBN:978-951-29-6701-8
Kuvaus
Siirretty Doriasta
Tiivistelmä
Atherosclerosis is an inflammatory disease which is characterized by accumulation of lipids in the vascular wall. The rupture of atherosclerotic plaque is often behind the leading causes of death in the Western world: myocardial infarction and stroke. Plaques prone to rupture are often inflamed and contain large numbers of immune cells, especially macrophages. The detection of inflammation has been studied by new imaging techniques, such as positron emission tomography (PET).

The aim of this thesis was to evaluate macrophage-targeting PET tracers for the imaging of inflammation in atherosclerosis and to evaluate responses to interventions using an established PET tracer. The studies were conducted in two mouse models. In vivo imaging, ex vivo biodistribution and aortic autoradiography were utilized to assess the tracer uptake in atherosclerotic arteries.

Plasma biomarker measurements and histological stainings were conducted to assess the inflammation and the presence of tracer targets. The effects of dietary and atorvastatin interventions on aortic inflammation and uptake of an established tracer, 18F-FDG, were studied.

Of the studied tracers, 18F-FMCH showed the highest potential. 18F-FEMPA, 68Ga-DOTANOC, and 68 Ga-DOTATATE also showed suitable characteristics for in vivo imaging with certain limitations, whereas 18F-FDR-NOC was not suitable. Compared to mice on high-fat food, dietary intervention led to attenuated aortic inflammation and lower 18F-FDG uptake, whereas atorvastatin alone had no effect.

In conclusion, the macrophage-targeting tracers showed potential for the imaging of inflammation in atherosclerosis, especially 18F-FMCH, which will be further studied in a clinical setting. The therapy responses could be assessed in a mouse model with 18F-FDG.