Magnetic resonance study of atomic hydrogen stabilized in matrices of hydrogen isotopes below 1K
Sheludiakov, Sergei (2017-03-03)
---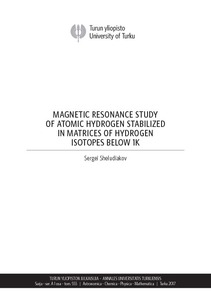 Turun yliopisto Annales Universitatis Turkuensis A I 555
03.03.2017
Julkaisun pysyvä osoite on:
http://urn.fi/URN:ISBN:978-951-29-6747-6
Kuvaus
Siirretty Doriasta
Tiivistelmä
In this thesis, we report on an experimental study of H, D and T atoms stabilized in solid molecular matrices of hydrogen isotopes at temperatures down to 70 mK. Previous experiments have been carried out at temperatures above 1 K except the preceding work on H in H2 matrices. Being trapped in a molecular H2 matrix, hydrogen atoms are not completely localized and able to diffuse by quantum tunneling at temperatures below 1 K. Accumulating H atoms in such matrices to high concentrations may lead to a number of fascinating phenomena related to the BEC-like behavior of H atoms or to a transition to the conducting state of a normally insulating hydrogen matrix. We describe different approaches to reaching high concentrations of unpaired atoms in solid films of hydrogen isotopes: an in situ electron-impact dissociation of hydrogen molecules in the matrix by running a cryogenic rf discharge in helium vapors and admixing β-radioactive tritium to the gas mixture prior to deposition. The atoms of all three hydrogen isotopes have non-zero electron and nuclear spins and the main experimental techniques used in our study are high-frequency electron spin resonance (ESR) and electron-nuclear double resonance (ENDOR).

Accumulating atoms in D2:H2 solid mixtures by running the rf discharge we reached a total concentration of unpaired atoms [H]+[D]'4×1019 cm−3. Spectacular conversion of D atoms into H due to quantum tunneling isotopic exchange reactions D+H2 →HD+H and D+HD→D2+H was observed in all samples containing deuterium. We were able to measure the rate of the latter reaction in pure HD, kex'3 × 10−27cm3s−1, which turned out to be nearly independent of temperature down to 0.13 K. We studied the D+HD reaction also in a D2 matrix with a small, 0.23 %, admixture of HD, and found that it goes with a nearly same rate as in HD. In the D2 matrix the reactants should di use towards each other before the reaction takes place. The diffusion also occurs via quantum exchange of the impurity atom with one of the atoms of the neighboring molecule. Usually, the diffusion is a limiting stage for the recombination of unpaired atoms in hydrogen matrices. However, we found that this is not the case for the D2:0.23% HD matrix. The very weak dependence of the exchange reaction rate on temperature is a signature of the quantum tunneling character of this process.

We also studied dynamic nuclear polarization (DNP) of H atoms in different matrices of hydrogen isotopes. It turned out that the DNP via the Solid effect, by pumping the forbidden transitions of H atoms, is strongly enhanced by the presence of unpaired deuterium atoms. This behavior is explained in terms of the Cross effect, which occurs due to the overlap of the forbidden transitions of H with the ESR lines of atomic deuterium. In the strong magnetic feld of this work, the Solid and Cross effects are well resolved and both may be used for e cient DNP of H atoms. A new and peculiar phenomenon was observed after pumping the center of the ESR spectra which caused a negative polarization of H atoms. We suggest that this DNP effect may be realized due to the formation of H-H or H-D radical pairs coupled by the strong exchange interaction, which have an allowed transition in the center of the ESR spectra in contrast to unpaired H atoms. Formation of the radical pairs was supported indirectly in experiments on saturating satellite transitions which correspond to the fipping of an electron spin of an unpaired atom and a nuclear spin of a neighboring D2 molecule.

Studying the samples where unpaired atoms were accumulated due to the β-decay of tritium we achieved the record-high concentrations of T and H atoms, '1.8×1020 cm−3 and '1.1 × 1020cm−3, respectively, by adjusting the thickness and the T2:H2 content in the flms. We also observed an e cient conversion of T atoms into H due to the isotopic exchange reaction T+H2 →TH+H. We estimate the rate of this reaction at 70 mK, kTex =3(2)×10−26cm3s−1. The maximum concentrations of atoms in these samples were limited by the recombination which was stimulated by phonons generated in the matrix due to the β-decay of tritium. Depending on the storage conditions, recombination also appeared in an explosive manner. We suggest that the main mechanism of atomic diffusion in the samples containing tritium is the physical diffusion related to the formation of vacancies in contrast to the diffusion due to tunneling exchange reactions H+H2 →H2+H and D+D2 →D2+D in H2 and D2 matrices where unpaired atoms are produced by other techniques.