Inhibition of herpes simplex virus infection with RNA interference
Paavilainen, Henrik (2017-03-24)
---
Inhibition of herpes simplex virus infection with RNA interference
(24.03.2017)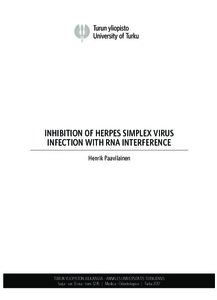 Annales Universitatis Turkuensis D 1276 Turun yliopisto
Julkaisun pysyvä osoite on:
https://urn.fi/URN:ISBN:978-951-29-6766-7
Kuvaus
Siirretty Doriasta
Tiivistelmä
Herpes simplex virus (HSV) is a common pathogen. Approximately half of the human population carries the virus. Of clinical symptoms, the most common one is a blister on the lip. This manifestation is often at the initial site of infection. However, in primary infection, before epithelial eradication of HSV by the immune system, the virus infects sensory neurons. In these neurons the virus hides and forms latency. From this latency, the virus can reactivate and travel via axons back to the epithelium to form a new lytic infection. In addition, the virus can upon reactivation travel to the eye and cause HSV keratitis. HSV is the leading cause of blindness due to infectious origin in the developed world. In addition, antiviral resistant HSV strains are relatively abundant in immunocompromised patients and in eye infections of HSV. Thus, there is need for novel drugs against HSV.

In this study, the goal was to develop a new drug against HSV, especially for the treatment of HSV keratitis. RNA interference, based on enzymatically produced and cleaved antiviral small interfering RNA (siRNA) pools (swarms of siRNAs) were studied. The drug development of this therapy started from in silico analysis of the target sequences in the viral genome. From there, drugs produced via various methods were studied. Swarms targeting different parts of the viral genome were studied for their innate immunity induction profile and antiviral efficacy. Clinical field isolates of HSV were used in addition to laboratory strains. For an in vivo keratitis model, a single siRNA swarm was selected. This swarm, targeting HSV gene UL29 showed broad effectiveness in vitro and in vivo and had a limited innate immunity induction profile, being the best candidate for further development.

This study shows, that an siRNA swarm approach against herpes simplex virus infection is feasible.