Effect of Processing Technologies on Phenolic Compounds in Berry Products
Mäkilä, Leenamaija (2017-05-15)
---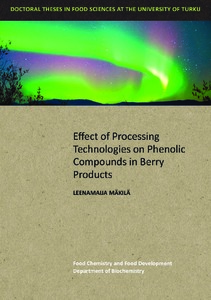 Turun yliopisto
15.05.2017
Julkaisun pysyvä osoite on:
http://urn.fi/URN:ISBN:978-951-29-6808-4
Kuvaus
Siirretty Doriasta
Tiivistelmä
In the food industry, berries are conventionally processed into juices, jams, jellies, purées, concentrates and extracts. Phenolic compounds play an important role in the health effects and sensory properties of berry products. The factors influencing the stability of phenolic compounds are the type of process and process parameters, the food matrix (pH, presence of oxygen, enzymes, pectins, sugars and metals), and storage conditions. Anthocyanins are especially vulnerable during processing and storage, resulting in pigment degradation and formation of anthocyanin-tannin/flavan-3-ol polymers. Flavonol glycosides, ellagitannins and derivatives of phenolic acids are hydrolyzed into free aglycones and acids, and the degree of polymerization (DP) of proanthocyanidins is lowered. The decomposition of phenolic compounds, especially anthocyanins, may compromise the sensory and nutritional food quality.

Processing berries into juices results in 20–30% of press residue, producing significant ecological problems when discarded as waste. The press residue contains high amounts of phenolic compounds and could be a valuable source of bioactive ingredients. Thermal and non-thermal techniques exploiting cavitation (hydrothermodynamic processing), microwave heating, electroporation (pulsed electric field processing), and high pressure have the potential to provide berry products with improved yields of phenolic compounds and less decomposition due to lower treatment temperatures and shorter exposure to heat during the treatment. These processes are viable alternatives during berry blanching and juice pasteurization, and also for extraction of phenolic fractions from the press residue.

In the practical work of the thesis, the impact of various juice pressing technologies and storage conditions were studied on the chemical composition and sensory properties of black currant (Ribes nigrum L.) juices. During juice processing, berries were pressed with and without the application of supplementary enzymes. A two-phase juice extraction process yielded "Non-Enzymatic Berry"- and "Enzymatic Press Residue"-juices, which were compared with the conventional enzyme-assisted juice. The high phenolic content resulted in an increased astringency and bitterness in the enzymatically pressed juices. Native undisrupted pectins in the "Non-Enzymatic Berry"-juice reduced the astringency. The lowest content of phenolic compounds in the "Non-Enzymatic Berry-juice" led to the lowest stability of the phenolic composition during pasteurization and storage. The most notable decrease was observed in the monomeric anthocyanins, and the most significant increase inphenolic acids. Generally, the stability of anthocyanins is mostly influenced by the storage temperature, whereas other phenolic compounds are sensitive to both temperature and light. Light induced the conversion of (E)-p-coumaric acid derivatives into the corresponding (Z)-isomers. Flavonol glycosides were more stable, compared to anthocyanins and hydroxycinnamic acid derivatives. The chemical and sensory quality of the juices remained rather constant during cold (+4 °C) storage.

Analyses were conducted by high-performance liquid chromatography – diode-array detection – electrospray ionization – mass spectrometry or tandem mass spectrometry (HPLC–DAD–ESI–MS(–MS2)), high-performance liquid chromatography – diode-array detection – electrospray ionization – quadrupole time-of-flight mass spectrometry (HPLC–DAD–ESI–Q-TOF-MS) and analysis by nuclear magnetic resonance (NMR), after isolation with selective high-performance liquid chromatography. Analyses revealed derivatives of hydroxycinnamic acids: 2-(Z)-p-coumaroyloxymethylene-4-β-D-glucopyranosyloxy-2-(Z)-butenenitrile, 2-(E)-caffeoyloxymethylene-4-β-D-glucopyranosyloxy-2-(Z)-butenenitrile, (Z)-p-coumaric acid 4-O-β-D-glucopyranoside and 1-O-(Z)-p-coumaroyl-β-D-glucopyranose, and also free (Z)-p-coumaric acid.

New product concepts for snacks were developed using the press residue obtained from different juice pressing processes. The research conducted for this thesis provided important knowledge on the stability of berry phenolics during various conditions of food processing and storage, and introduced sustainable process technologies for utilization of the berry and the side-stream. The results can promote the development of new berry products with enhanced quality.