The Sensitivity of Annually Laminated Lake Sediments in Central and Eastern Finland to the Late Holocene Climate
Saarni, Saija (2017-06-12)
---
The Sensitivity of Annually Laminated Lake Sediments in Central and Eastern Finland to the Late Holocene Climate
(12.06.2017)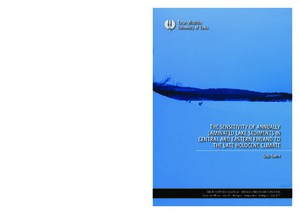 Turun yliopisto Annales Universitatis Turkuensis A II 331
Julkaisun pysyvä osoite on:
https://urn.fi/URN:ISBN:978-951-29-6862-6
Kuvaus
Siirretty Doriasta
Tiivistelmä
This dissertation discusses sedimentary varve formation and Late Holocene paleoenvironmental and climatic variation. Varved sediment records from five lakes in central and eastern Finland were studied. Three varve records, 3 000 - 4 000 years long, from the clastic-biogenic sediments of Lake Kalliojärvi and Lake Kuninkaisenlampi and biogenic sediments of Lake Kallio-Kourujärvi were reconstructed. In addition, two short records that cover the last 100 years were constructed from Lake Kantele and Lake Linnanlampi. These lakes were cored after an intensive search for previously unknown varved lakes. Piston and freeze cores of sedimentary sequences were obtained from each lake basin for varve, magnetic and chemical analyses. Sediments were impregnated in epoxy resin and the physical varve properties, which include total varve thickness and laminae thicknesses, were analyzed using either a stereographic microscope under dark field illumination or a digital image analysis technique. Paleomagnetic secular variation of the Earth's magnetic field was measured from Lake Kallio-Kourujärvi, Kalliojärvi and Kuninkaisenlampi sediments and inclination and relative declination were obtained. The major paleomagnetic secular variation features of the records are in agreement with both North Karelian Stack and Fennostack and support the varve dating. The varve data were subjected to statistical analyses in order to study the relationship between hydroclimate and varve characteristics. The results highlight the influence of catchment dynamics in varve formation. Clastic lamina thickness has been previously related to spring flood intensity controlled by snow accumulation. However, this study shows an inverse relationship between snow accumulation and clastic lamina thickness in lakes located in the region of fine-grained tills. This could be explained by the frost sensitivity of fine-grained tills, where enhanced erosion on catchment is interpreted as a result of frost that prevents infiltration of melt waters into the ground. Consequently, in years with deeper ground frost the surface run-off during melting season is increased, thus increasing the amount of catchment derived mineral matter in the lake. The frost formation is strongest during winters with low snow accumulation. The clastic laminae of the Lake Kalliojärvi in central Finland, located in an area dominated by sand moraines, are positively correlated and sensitive to winter precipitation and snow accumulation. Biogenic laminae at the lakes with low trophic status were sensitive to precipitation. Enhanced precipitation not only increases the nutrient transport from the catchment into the lake, but also increases the transportation of terrigenous organic matter. Lake Kalliojärvi record reflects the North Atlantic Oscillation variability, very likely through increased snow accumulation during the positive NAO phase. The long varve record from Lake Kuninkaisenlampi reflects solar activity variation in detail and atmospheric blocking related to cold and less snowy winters would explain this link. Based on the results of this study the catchment characteristics and the region impose a strong control over which climatic forcing the lake is sensitive to.