Proceedings of the Fourth Russian Finnish Symposium on Discrete Mathematics : Organized in Turku on 16.-19.5.2017
Karhumäki, Juhani; Matiyasevich, Yuri; Saarela, Aleksi (2017-08-03)
---
Proceedings of the Fourth Russian Finnish Symposium on Discrete Mathematics : Organized in Turku on 16.-19.5.2017
Karhumäki, Juhani
Matiyasevich, Yuri
Saarela, Aleksi
(03.08.2017)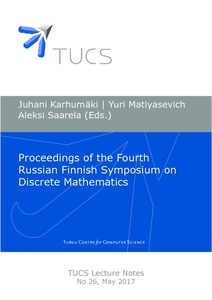 TUCS Turku Centre for Computer Science
Julkaisun pysyvä osoite on:
https://urn.fi/URN:ISBN:978-952-12-3547-4
Kuvaus
Siirretty Doriasta
Tiivistelmä
The fourth RuFiDiM conference, Russian-Finnish Symposium on Discrete Mathematics,took place in Turku in May, from 16th til 19th, 2017. This meeting was organized as apart of research activities between Steklov Institute of Mathematics of St. Petersburgand Department of Mathematics and Statistics of University of Turku. The goal of theconference series is to increase cooperation between Finnish and Russian mathematiciansin discrete mathematics, but the symposium is open for a broader international audience.In the present event there were contributions from 10 different nations.

RuFiDiM 2017 consisted of six invited talks and 25 contributed presentations. Theinvited speakers were Volker Diekert (University of Stuttgart), Alexandr Kostochka (University of Illinois at Urbana-Champaign), Alexei Miasnikov (Stevens institute of Technology),Igor Potapov (University of Liverpool), Aleksi Saarela (University of Turku) and JoukoVäänänen (University of Helsinki). The program was chosen by the international program committee. Abstracts or extended abstracts of the lectures are presented in these preproceedings.