Making Sense of Successful Global Teams
Einola, Katja (2017-09-08)
---
Making Sense of Successful Global Teams
(08.09.2017)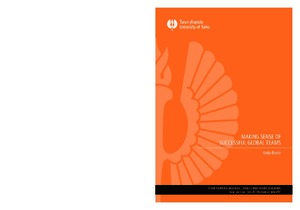 Turun yliopisto, Turun kauppakorkeakoulu
Julkaisun pysyvä osoite on:
https://urn.fi/URN:ISBN:978-951-29-6912-8
Tiivistelmä
Global teams tend to underperform. Teamwork often frustrates members compromising the results as well as employee motivation. In practice, bad results are often camouflaged, and both management and team members lack insight into what is really driving teams and why they do not reach their goals. The underlying metaphor our economic model is built on is the "machine" where people instead of active agents with true influence are implicitly seen as resources, executors of processes and walking curriculum vitaes to be aligned in precise ways to achieve often arbitrary goals and to meet unrealistic expectations.

This study takes a critical stand towards this mainstream view and applies reflexive methodology, the lens of sensemaking as well as the metaphor and the narrative as rhetorical devices to study how and why global teams form and evolve the way they do over time. The insights of this study are based on an experimental methodology studying many teams from a close range, and reveal how different structurally identical well-performing global teams executing the same tasks can be.

Teams when studied from within, are dynamic phenomena rather than static sums of their parts. Alternative team metaphors, such as the "chain gang", "dysfunctional family", "sandbox", "scouts" and "master cooks", for instance, emerge. The very different team dynamics are in part explained by how successful team members are at social sensemaking – establishing shared understandings around such basic concepts as "leadership", "good communication" and "team goals". Individual team members and their capability and willingness to engage in self-reflection and their decisions to act or not to act on what may first appear mundane events, can have huge influence over what their teams become. Sustainably successful teams work both on the task and the team itself and consider the team as a constant work-in-progress and not a fixed entity.

This study proposes innovative ways of looking at and studying global teams. People, team members, can be considered active agents, capable human beings on whose sensemaking paths depend on what these teams become and how they evolve over time.