Towards improved characterization of prostate cancer using magnetic resonance imaging and positron emission tomography
Jambor, Ivan (2017-08-29)
---
Towards improved characterization of prostate cancer using magnetic resonance imaging and positron emission tomography
(29.08.2017)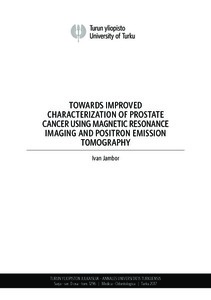 Turun yliopisto
Julkaisun pysyvä osoite on:
https://urn.fi/URN:ISBN:978-951-29-6891-6
Tiivistelmä
Approximately every seventh man will be diagnosed with prostate cancer during his life. Prostate cancer has a wide range of aggressiveness ranging from indolent to lethal disease. Accurate characterisation of prostate cancer is of utmost importance to prevent overtreatment while maintaining long survivorship and quality of life. In this thesis work, the role of two novel positron emission tomography tracers in detection and characterization of prostate was evaluated. 68Ga-labeled bombesin antagonist (BAY86-7548) was shown to have a high prostate binding specificity and significantly higher uptake in prostate cancer compared to benign prostatic hyperplasia and normal prostate tissue. Although, anti-1-amino-3-18F-fluorocyclobutane-1-carboxylic acid (18F-FACBC) uptake was significantly higher in tumors with higher Gleason score, our results indicate that 18F-FACBC positron emission tomography has a limited added value to multiparametric magnetic resonance imaging (MRI). Various mathematical models and/or functions for diffusion weighted imaging (DWI) were extensively evaluated using simulations and repeated MRI examinations. Kurtosis model demonstrated higher information content (fitting quality), similar repeatability, and similar robustness against noise than the most commonly used mono-exponential model. Spin lock imaging methods were compared with DWI and evaluated in the terms of prostate cancer detection and characterization. Finally, we have developed and validated a rapid pre-biopsy MRI protocol which substantially improves the selection of men for biopsy and limits unnecessary biopsy procedures. The use of anatomical T2-weighted imaging and diffusion weighted imaging was shown to be accurate and sufficient for initial decision management and targeted biopsy in patients with a clinical suspicion of prostate cancer. The findings of this thesis work have the potential to improve prostate cancer risk stratification and they may ultimately improve quality of life and survival.