Regulation of B cell development by transcription factors IRF4 and BACH2
Budzyńska, Paulina (2017-10-20)
---
Regulation of B cell development by transcription factors IRF4 and BACH2
(20.10.2017)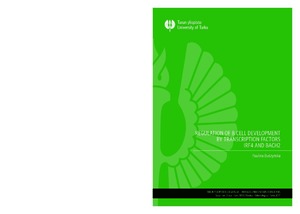 Turun yliopisto
Julkaisun pysyvä osoite on:
https://urn.fi/URN:ISBN:978-951-29-6965-4
Tiivistelmä
B lymphocytes—major cell types mediating an adaptive immunity—recognize a vast variety of structures by B cell antigen receptors (BCR). Activated B cells can form germinal centers, undergo antigen-induced affinity maturation of their BCRs and differentiate into memory B cells sought upon vaccinations or antibody-secreting plasma cells that eradicate infections. Aberrant BCR signaling or transcriptional regulation of B cell development may cause immunodeficien- cies, autoimmune diseases or lymphoid malignancies. Therefore, deeper knowledge of the transcriptional regulation of B cell development is essential for the understanding of B cell derived diseases.

Transcription factors IRF4 and BACH2 are crucial regulators of germinal center formation and high-affinity antibody production. However, the molecular mech- anisms how they do these remain unknown. The aim of this study was to investi- gate the role of IRF4 in B cells and clarify IRF4 function in the regulation of an- tibody secretion as well as to examine the role of BACH2 in immunoglobulin (Ig) diversification processes. To do this IRF4-, BACH2-, and IRF4/BCL6 dou- ble-deficient DT40 B cell lines were generated.

In this thesis, I demonstrate a new role for IRF4 as a regulator of BCR signaling, which is crucial for the B cell survival, and activation. IRF4 directly represses IRF8 and upregulates SHIP gene expression that results in stronger BCR-induced calcium flux and changed signaling to ERK and PI3K/AKT signaling pathways. In this study, I show nonredundant functions for IRF4 and BLIMP1 in the induction of antibody secretion, as in IRF4- or IRF4/BCL6 double-deficient cells enforced expression of BLIMP1 fails to induce antibody secretion. As the most important finding, I reveal a new role for BACH2 in Ig gene conversion that diversifies BCR.